YOUR CREW IS CALLING.
ALUMNI MEET UP
September 13th, 2022 5:30-8pm
Leakin Park, Baltimore
Calling all Chesapeake Bay Outward Bound alumni! You don't want to miss this opportunity to come together with your Outward Bound crew. Come with your friends and meet other alumni and instructors as well. We'll go for a short hike through the trails of Leakin Park, and follow up with some games, s'mores around a fire, and a classic Outward Bound BBQ.
Limited edition Outward Bound swag for all attendees! Family and friends encouraged to join. Please RSVP so we have an accurate count.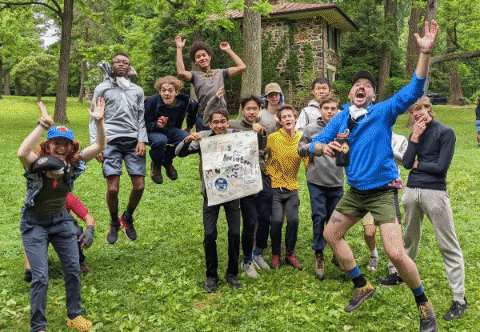 CREW FOR LIFE.
When: September 13th, 2022 5:30-8pm
Where: Leakin Park, 1900 Eagle Drive, Baltimore MD
Who: All Outward Bound alumni, family, friends, instructors & staff
Bring a pair of comfortable shoes for a short trail hike. We'll have everything you need to sit around the fire and make some s'mores, as well as burgers, dogs, and veggie options.
Alumni and instructor storytelling sit down from last year's alumni event. See what memories stand out for alumni and their instructors years after their expeditions.