Empowering Our Youth, Together In Community
We come together, in person, for a very special Cornerstone Celebration. We gather to celebrate 20 years of your dedication, commitment and financial support to Cornerstone – reasons that Chesapeake Bay Outward Bound School remains strong. And we come together to honor a pillar of Outward Bound who inspires us all to make a difference in our community.   
Since the inaugural Cornerstone event in 2003, your participation has impacted the lives of more than 55,000 students throughout the mid-Atlantic – from Baltimore to Washington, DC. Join us on this special evening to give more students and educators access to scholarships in life-changing outdoor programs. Now - more than ever – kids in our community need access to programs that give them a sense of belonging, connection and courage to be compassionate citizens. 
In celebration of this 20-year milestone, Patagonia – the outdoor retailer and advocate of environmental stewardship – has gifted their newest and largest store space in Baltimore at Fells Point to host Cornerstone 2023. 
Beyond the Classroom Video Premiere
Celebrating this year's honoree, Al Berkeley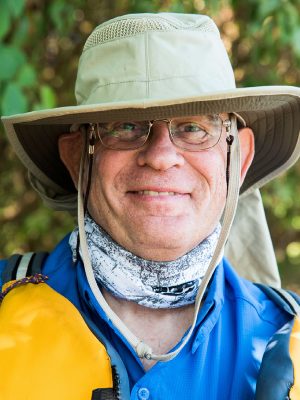 We proudly honor a pillar of Outward Bound and champion of education and veterans causes wherever the need.  Al Berkeley's commitment to ensuring equitable opportunities for students and veterans spans across the greater Baltimore and Washington DC regions. Al embodies the Outward Bound motto – To Serve, To Strive And Not To Yield. 
His unwavering commitment to positively impact the lives of thousands of students, educators and veterans will be felt for years to come. Join us in honoring this amazing force in our community.  
See some of the night's speeches
Chloe Straub, CBOBS Instructor and 2022 Silver Whistle Award Winner
Ashton W., CBOBS Alum and Baltimore Montessori Public Charter School Student
Dan Dent, Toasting Cornerstone honoree Al Berkeley
Photos by Photographer Brian O'Doherty
SPONSORS MAKING A DIFFERENCE
Shonique Alexander
Andrew & Daphne Bahl
Paul & Melanie Baker
Tom Hoen & Allison Barlow
Kate Beck
Brandon & Richard Berkeley
Mycah Berryman
Charles & Marie Brown
Albert J. & Annie Caputo
David & Stephanie Citron
Bryson Cook
Matthew Cooper
Jen Cort
Tracy & Nick Devine
Nick & Martina Dilks
Susan & Daniel Dwyer
E Hervey & Katherine Evans
Charlie C. Fenwick Jr.
Carey Fetting-Smith
Mark Fetting & Georgie Smith
Tom & Wesley Finnerty
Johnnie & Marjorie Foreman
Richard W. Frisch
Scott Fritze
Dr. & Mrs. Earl P. Galleher
Thomas O. Gamper
Matt Gerken & Abby Bowers Gerken
A.C. & Kathryn George
Eliza Graham
Nancy Whitman Greene
Jim Halle
Michael & Maria Hardy
Roger & Emma Hoff
Sam & Genya Hopkins
Walter & Stephen Howard
Idy & Jennie Iglehart
Robert & Harper Johnston
Eli & Christina Kemmerer
Sara Burch Khairallah
Phyllis Leung Kim
Peter Kimmel
Charlie & Megan Larsen
Ben & Kyle Legg
William Legg
Lynne Lindsey
Carissa & Joseph Looney
Lucky Heart Fund
Julie Lynn
Peter & Elisabeth Lyon
Amy Macht & George Gross
Ganesha Martin
Thomas & Anne McCracken
Hugh D. and Amy H. McGuirk Fund
Randolph Metcalfe & Kathleen Chagnon
Lori Mostofsky
Tim & Kathleen Naughton
Philip Moyer
Cassandra Naylor
Ginger Naylor
Douglas & Frances Nelson
John & Sophie Nelson
Bruce & Lisa Nichols
Chris Nickerson
Matthew Novak
Niall O'Malley
Dustin Page
Parks and People, Inc.
Susan & Hugh Phelps
Toby & Lisa Pitts
Arnelle Quashie
Elizabeth & Keith Rice
Justin & Vanessa Redd
Stephen & Kyoko Redd
Christopher & Natasha Rhodes
Susie & Bill Rienhoff
Mike & Maggie Rodgers
Patrick & Blythe Ross
Kanwal Sandhu
Graham & Noelle Savage
Dr. Shanaysha Sauls
Frederick & Mary Catherine Savage
Allie Schaff
Tamara Sciullo
Natalie Sherman
Sean Simpson
Jim & Rosie Smith
Henry & Elizabeth Smyth
Parker Sutton
Jamie Snead & Steve Ziger
William & Caroline Stewart
Amy Stump
Petey Tischer & James Murray
Mark Treon
Scott & Lindsay Vane
Heather Van Ness
Mark Vesely
Susan Wilkinson
Edward Woods IV
Corinna Taylor Won
Jason Wright
Trent & Margaret Zivkovich
James Zug