Firewatch is back for the third year and this time we're calling on each and every one of you to help us keep our crew connected. At its core, Firewatch is an opportunity for anyone to support Outward Bound's mission — alumni and their families, community members that care about social-emotional learning, previous donors to our school, educators, or anyone who wants to be a part of building successful futures for Baltimore/DC-based youth.
This year we want to make your gifts even more impactful, so we'll be matching your donation dollar for dollar thanks to The Arthur M. Blank Family Foundation! Your donation also reserves you a spot to win a bushel of Maryland Crabs - there are two chances to win and can be shipped anywhere in the U.S.!
A BRIEF HISTORY OF FIREWATCH
Rescue service was a part of every school in which Kurt Hahn, Outward Bound's Founder, was involved. Depending on the local terrain, Hahn's students were often called to serve on mountain/avalanche rescue teams, fire service, lighthouse watches, and numerous community outreach projects. There were those who said it was crazy to empower teenagers with the responsibility of rescuing people from life-threatening situations or manning lighthouses on the coast. Kurt Hahn was known to reply to these accusations with the firm conviction that, "it is criminal neglect to fail to give young people that kind of responsibility!" 
When in the field with students we use this story to illustrate what is possible when you take responsibility in the world in terms of service to others. Though the practice of fire watch is a bit contrived, the debrief or question for our crew that night is 'how are you going to be of real service to your community?' Not only this, but we need each other to literally and metaphorically make it through the night. Everyone pitches in, and it's this positive group culture that gets the group to daylight. The fire watch shows them that they  "can make it to daylight" by working together as a crew. When applied to the real world, they begin to see how they can change the physical and metaphorical landscape of their surroundings, literally overnight.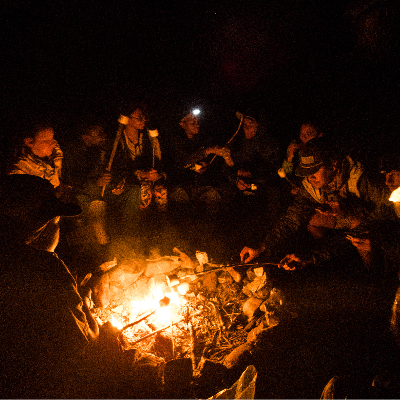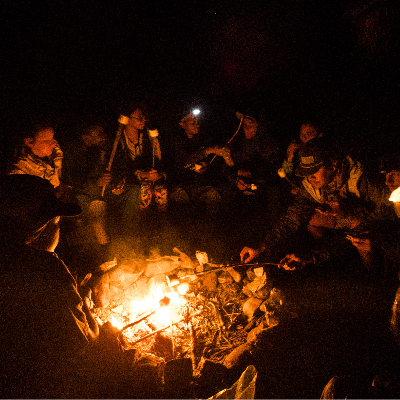 Revisit the 2021 Alumni Cookout
Last year, we invited students out for our first-ever Alumni Cookout! We took the opportunity to reconnect crewmates and instructors to share stories and laughs at our Baltimore campus. If you're a local alumni, a parent of alumni, or know someone who has completed an Outward Bound course please stay tuned for info on our upcoming fall event to bring you all together once again!
Frequently Asked Questions
What is a bushel of crabs?
If you're not from Maryland, a bushel of crabs may be a new concept. A bushel is determined by weight, not number, though in a bushel you can expect anywhere from five to seven dozen crabs!! Be sure to call the neighborhood over for a crab feast if you win.
How much do I have to donate to be in the raffle?
You don't! If you want to enter, just email us at donorrelations@chesapeakebayoutwardbound.org and we will add your name to the raffle! Otherwise, you will automatically be entered if you have donated any amount. No employees of CBOBS are permitted to enter the raffle.
What if I don't live in Maryland?
Not a problem, the crabs can be shipped anywhere in the U.S. and we will cover the cost!
When will I know if I won?
We will do two raffle drawings on August 1st. If you won, we will reach out to you personally and you can check our socials for announcements!