Thank you to everyone that joined us around the fire this campaign. Your support in the mission helped us raise over $13,000 and 140 new crew members (donors like you) that will help us through the night. We will be ready for what tomorrow brings, together.  If you haven't gotten the chance to donate, its not too late! 
A Brief History of Firewatch
Rescue service was a part of every school in which Kurt Hahn, Outward Bound's Founder, was involved. Depending on the local terrain, Hahn's students were often called to serve on mountain/avalanche rescue teams, fire service, lighthouse watches, and numerous community outreach projects. There were those who said it was crazy to empower teenagers with the responsibility of rescuing people from life threatening situations or manning lighthouses on the coast. Kurt Hahn was known to reply to these accusations with the firm conviction that, "it is criminal neglect to fail to give young people that kind of responsibility!" 
When in the field with students we use this story to illustrate what is possible when you take responsibility in the world in terms of service to others. Though the practice of fire watch is a bit contrived, the debrief or question for our crew that night is 'how are you going to be of real service to your community?' Not only this, but we need each other to literally and metaphorically make it through the night. Everyone pitches in, and it's this positive group culture that gets the group to daylight. The fire watch shows them that they  "can make it to daylight" by working together as a crew. When applied to the real world, they begin to see how they can change the physical and metaphorical landscape of their surroundings, literally overnight. 
With a challenging world in front of us, we know that serving our students is still the most important work we can do to make an impact in this world. In order to give us a chance to adapt to the changing world in education, we're inviting you to join our crew and make sure our fire stays lit until the new dawn.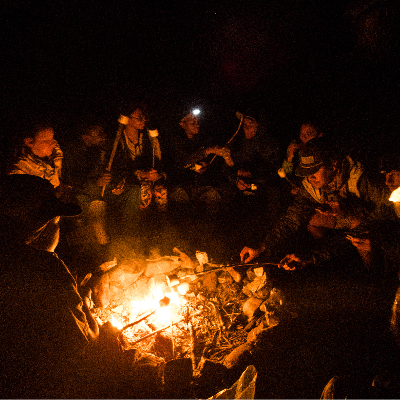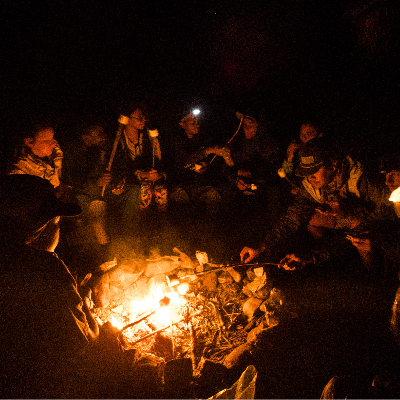 New to Our Crew?
Welcome to the CBOBS Crew! Chesapeake Bay Outward Bound School (est.1986) is a non-profit educational organization serving people of all ages, backgrounds, and socioeconomic status through challenging learning expeditions that inspire self-discovery, both in and out of the classroom. We facilitate multi-day wilderness expeditions, single-day insight programs, professional programs, and have been working since the spring to bring new virtual, social emotional sessions to our school partners. We invite you to explore our website, or come take a hike on the trails of our West Baltimore base in Leakin Park.