MORE THAN A FIELD TRIP.
You're one step closer to having your student visit us at Chesapeake Bay Outward Bound School! Now that you've completed our enrollment paperwork you can start to think about what the day with our staff will be like, and how you might come best prepared. Below are a few resources to help you do just that.
Keep in mind that each and every program is designed for the group of students coming out so all our photos and videos are just examples of the activities students may complete. We also have two campuses, in Baltimore and Washington DC and offer programming at different locations when needed. Don't worry though, your school will take care of all those details.
REGISTRATION FORM: Complete the online registration form before you arrive! You'll get that emailed or texted from someone at your school/organization.
SHOES: Athletic, close-toed shoes (that might get wet and muddy!) No sandals.
CLOTHES: Comfortable, active-wear clothes. Dress for the weather – we will be outside all day!
WATER BOTTLE if you have one.
EMERGENCY MEDICATION such as epi-pens or inhalers.
LUNCH? Your teacher will tell you if you'll need to pack a lunch for the day!
Don't bring electronics or cell phones. We will provide a safe space to store cell phones during the program. We ask all of our participants to put phones away in order to be present throughout the day and not risk the chance of phones getting broken or lost during our activities.
We are happy to have you join us for a day of team building, collaborative problem solving, communication skill-building, and fun!
Chesapeake Bay Outward Bound's Insight programs bring groups together in an innovative environment through group challenge and personal discovery.
Your Outward Bound facilitator will use games, problem-solving exercises, and hands-on learning to provide a unique experience for every learner.
Outward Bound facilitators use reflective questioning to help students process their experience and take learning from their Outward Bound program back to real life.
Many groups who come to our Baltimore Campus are able to use our high ropes challenge course for a portion of the day with us! Our trained Outward Bound staff will monitor small groups who have the opportunity to climb and belay.
Our team also administers an outcome survey before and after each program. If you wish, you can opt your child out by using the form below. 
Nobody thrives when they're being forced or coerced to do something they don't want to do.
Even when these things are good for you, an approach that gives students the power to choose will always be more successful than feeling pressure to participate because of a threatening external factor such as peers, teachers, or instructors.
You'll see Outward Bound staff utilizing an educational practice we call "Challenge By Choice". During physically, emotionally, or socially challenging activities, staff will often share various levels of challenge that students can take in that activity.
While we won't ask students to completely opt out of the activity, we may offer alternatives for participation. We believe this boosts self-efficacy, motivation, builds perseverance holistically, and is a trauma-informed approach.
WHERE IS THE PROGRAM HELD?
We offer three main locations for one-day programs. We also offer programming at locals schools.
Most of our Baltimore and Maryland schools will visit our main campus in Baltimore's Leakin Park. Our DC-based programs may occur at one of the two parks listed below.
Reach out to your school/group for more information on the location of your child's program.
Leakin Park
1900 Eagle Drive.
Baltimore, MD 21207
Palisades Recreation Center
5200 Sherier Pl NW
Washington, DC 20016
Marvin Gaye Recreation Center
15 61st St NE
Washington, DC 20019
Your Location
We occasionally offer programming at local schools.
WHAT WILL MY CHILD BE LEARNING?
At Outward Bound we believe that social, emotional, and intrapersonal skills are vital to the development of all youth. We use our educational framework, The Domains of Thriving, as the basis for our programming.
The Domains of Thriving framework and tool combines Outward Bound's 50+ years of experience facilitating life-changing experiences with the latest insight and research on social-emotional development. The Domains of Thriving highlights the four areas of human development that are impacted on an Outward Bound course: Courage, Belonging, Reflection, and Physical Engagement. It also identifies eight specific social-emotional skills that our students are supported to develop: Perseverance, Assertiveness, Group Relationships, Teamwork, Self-Awareness, Social-Responsibility, Self-Regulation, and Physical Confidence. Surrounding all of this are our Conditions for Learning, which provide the foundation for transformative learning experiences.  
Our goal is for students who come through our programs to leave with a stronger bond with their group, a sense of achievement from completing an activity or climbing the ropes course, and development in social-emotional skills such as teamwork, self-awareness, or perseverance. Outward Bound works with your child's school or group to determine specific goals for the program.
Ask your child about their day when they come home!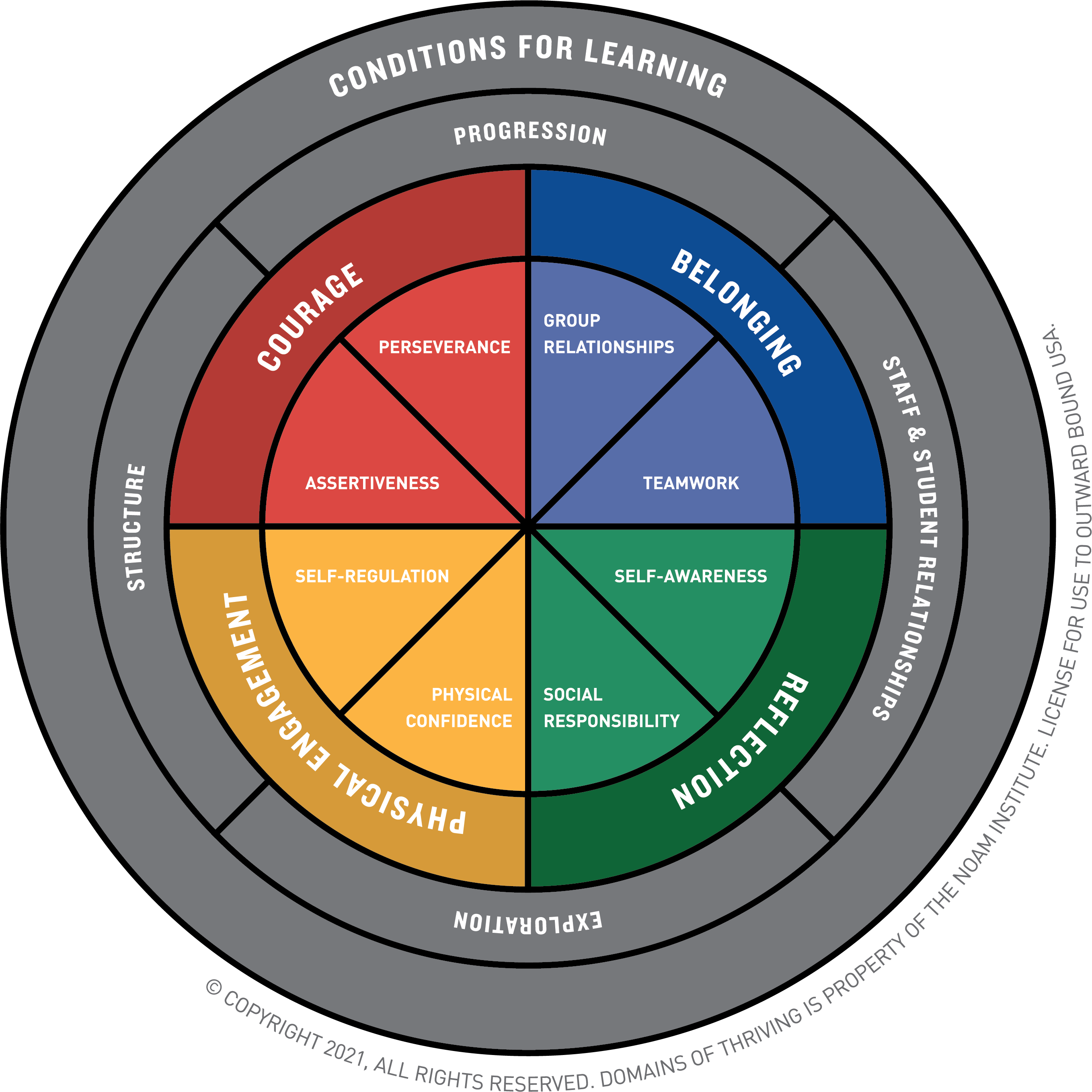 OUR STAFF
Our instructors are not camp counselors – they are highly trained experiential educators. Our staff complete a minimum of 80 hours of training annually. All of our staff are required to pass Federal and State background checks. Becoming an Instructor requires the demonstration of excellent decision-making, student-management, and hands-on learning skills.
Outside Magazine even named us one of the best places to work!
Below are a few members of our day program team so you can learn a bit more about the professionals who will be educating your students at Outward Bound.