TWO COHORTS AVAILABLE
Spring Start: March - June Training
Summer Start: July - October Training
New instructors at Chesapeake Bay Outward Bound School (CBOBS) start their employment with a 16-week probationary training period preparing them to become future full-time instructors. 
The first phase of the period includes mandatory training that can be rigorous and challenging at times. New staff will experience our program through both the student and staff lens, covering topics such as student management and experience, safety and risk mitigation, course area navigation, program facilitation and specialty skills.  
In the second phase, new instructors apply their new learning and begin to engage with our work. Acting in supporting, training role, new instructors will be paired with experienced instructors on programs and in support roles, learning hands-on what makes an excellent Outward Bound program. 
For full details and to learn more, be sure to check out each section below which includes the Key Duties, Responsibilities, Requirements, and last but not least, the F.A.Q. 
Chesapeake Bay Outward Bound School (CBOBS) Instructors are leaders in outdoor experiential education and social emotional learning. Our staff are hardworking, dedicated to service and community building, committed to equity and inclusion, and mission-driven.  
First and foremost, our staff are committed to education, have strong facilitation skills, and have a background in or are passionate about working with youth in the outdoors.  
We are looking for new Instructors who: 
Can meet are student where they are, adapting instruction to support learning styles and educational needs, as well as guide meaningful discussions, develop and organize lesson plans, and practice humility, humor, and, above all, compassion in their approach. 

 

Value relationships and practice effective self-care, individuals who can build rapport with students and staff from diverse backgrounds, have strong communication skills, and can give and receive honest feedback.  

 

Comfortable managing risk inherent to our programs that includes but isn't limited to understanding and supporting the social, psychological, and physical challenges for themselves, fellow staff and all students. 

 
During the Spring and Fall seasons, we partner with nearby public, charter, and independent schools to deliver 5-day peer leadership expeditions. In the Summer, we welcome students from around the world on longer, 8- to 12-day expeditions. We backpack on the Appalachian Trail and in the Dolly Sods Wilderness, canoe on the Potomac River, and sea kayak on the Nanticoke River near the Chesapeake Bay. Similarly, our day programs serve mostly school students during the Spring and Fall. Over the Summer, we work with groups from summer enrichment programs, camps, or mentorship groups. Throughout the year we also run the Police Youth Challenge – a program designed to bring students from Baltimore and Baltimore Police Officers together for a day of building trust and breaking down bias. From mid-November to mid-March, our base shuts down for the Winter months; during this time, instructors often travel, find other work in education or the service industry, and/or pursue other interests in the Baltimore area. 
Chesapeake Bay Outward Bound School's Baltimore base provides the best of both worlds. Located in the 1,216 acre Gwynns Falls Leakin Park in Baltimore, MD, the base is within city limits, with easy access to Baltimore City while still being in a huge, wooded park.  
Chesapeake Bay Outward Bound School is also actively developing base in Washington, D.C., with offices located at the Josephine Butler Parks Center. Our D.C. partnerships are growing constantly, and we work directly with D.C. Parks and Recreation in an effort to revitalize several of D.C.'s green spaces. 
If you are motivated to serve young people and be a part of a supportive, fun, and hard-working community, apply to be an Instructor today!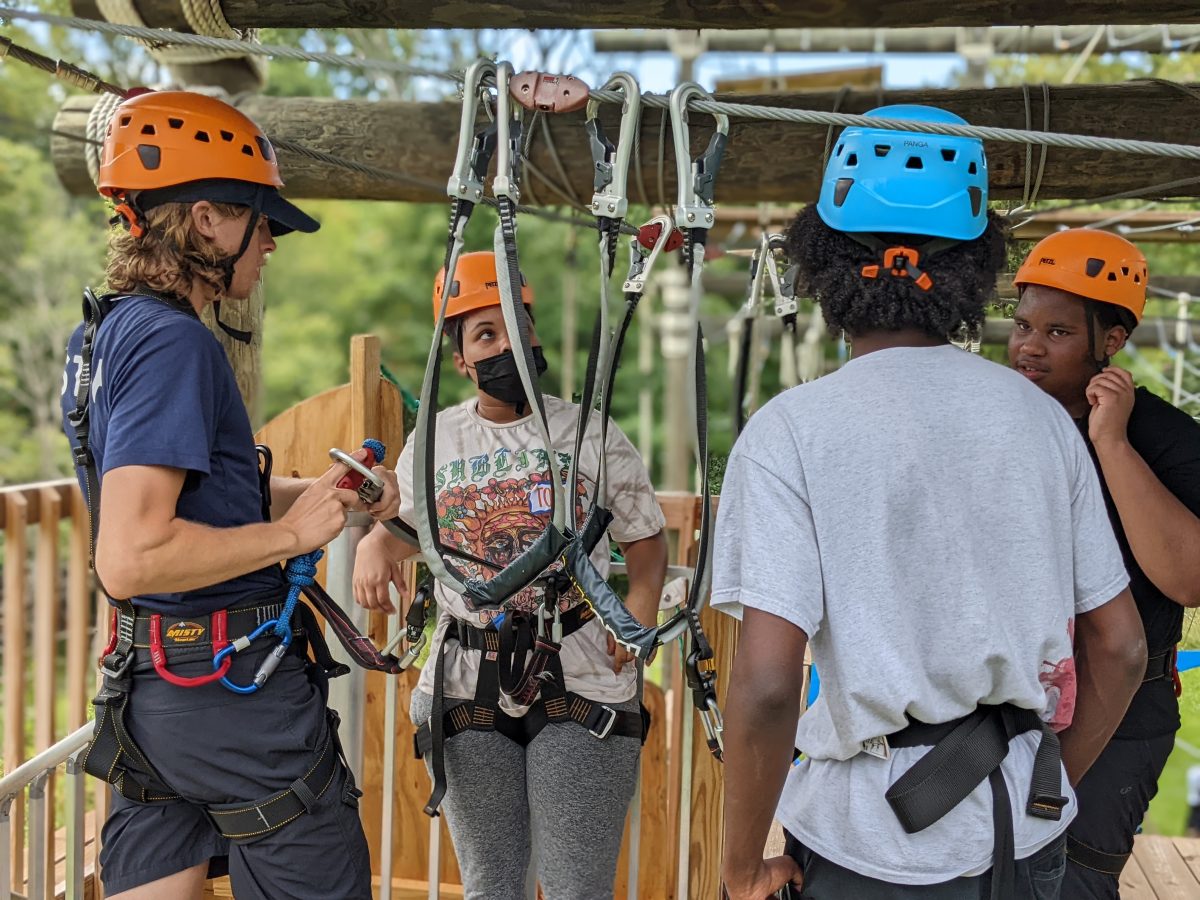 The physical demands described here are representative of those that must be met by an employee to successfully perform the essential functions of this job. Reasonable accommodations may be made to enable individuals with disabilities to perform the essential functions.  
Ability to carry 45–65 pound hiking pack on and off trail for 12 hours or more a day. 

 

Possesses mental stamina, adaptability, and emotional maturity to supervise students and support co-instructors in a wilderness, remote course environments 24/7.

 

Be sufficiently fit to participate in all required activities, including but not limited to backpacking, climbing, paddling, ropes courses, rock climbing, running including ability to work in small spaces, at height, and to lift, crawl, bend, carry, push, and pull.

 

Ability to maintain energy, strength, and focus to assist students and staff with physical and emotional challenges in complex situations.

 

Ability to objectively assess staff and participant behavior, determine its appropriateness, enforce safety regulations and emergency procedures, and apply appropriate management techniques.

 

Visual, auditory, and physical ability to identify and respond to hazards related to activity and emergencies and possess strength and endurance required to maintain constant supervision of staff. 

 

Capacity to care for personal needs (physical, mental and emotional) in a high stress, sometimes unpredictable outdoor environment.

 

Capability to work on feet most days, sometimes 16+ hours, with daily exposure to the sun, heat, and animals such as bugs, snakes, bats, bears, etc.

 

Maintain a positive outlook and make clear, concise decisions regardless of changes in weather, schedules, and plans in a remote environment.

 

Operate office equipment to include but not limited to, computer, keyboard, calculator, copier machine, and other office equipment.

 
Must receive a primary COVID-19 series (e.g., two doses of an mRNA vaccine) and an additional dose of a COVID-19 vaccine (booster), by first date of employment or arrival on base.

If not eligible for booster by the first day, staff must receive at least one booster once eligible.

   

 

Must be 21 years of age or older.

 

Ability to clear federal and state background checks.

 

Have exposure to and comfort with backpacking, camping, and wilderness living. 

 

Must work well in a team environment and excel under pressure.

 

Current Wilderness First Responder (WFR) certification preferred. Adult CPR required. 

 

Ability to work in a team environment and support CBOBS philosophy and mission.

 
Actively engages in personal and professional growth, participating in mandatory and educational training opportunities. 

 

Engages in sharing and receiving clear, effective, and timely communication and feedback with their supervisors, co-instructors, and other staff members.

 

Work effectively with students 12 - 18+ years in age, students who have never camped before, and students from marginalized communities.

 

Be a positive role model for staff/board members/clients/students by maintaining an appropriate appearance, a positive attitude, and professional demeanor.

Deliver the Outward Bound mission and Education Framework while teaching course components and encouraging teamwork, cooperation, challenge and service.

 

Supports the other instructors and program managers in all aspects of course safety; identifying, assessing and managing environmental and social risks within their scope of experience. 

 

Adheres to all local operating procedures, safety policies and emergency procedures outlined in the staff manuals and employee personnel policies, procedures and handbook. 

 
Assists with logistical functions such as food packing, course transport, equipment resupply, gear maintenance, and facility support. 

 

Participate in the emergency response system as assigned, which may include driving, supporting evacuations, assisting in field support calls, or managing a student group in lead or instructor absence.

 

Takes personal ownership to initiate, seek out, and commit to professional development through training and additional work experience.

 

Assists with administrative functions such as development of marketing materials, school briefings, event planning, and data entry.

 

Other duties as assigned.

 
Basic knowledge of the Outward Bound mission

Demonstrates multicultural competence and awareness
Demonstrates sustained ability to work with underserved populations

 

Background in Coaching, Mentoring, Education, Physical Sciences, Social Sciences, Experiential Education, Non-Profit Management or other related disciplines

 

Strong communication skills

 

Proficient with computers

 

Organized, with an ability to prioritize time-sensitive assignments

 

Creative and flexible

 
Outward Bound curriculum and facilitation trainings

 

Outward Bound technical trainings

 

Room and board

 

Monthly stipend of $1,500

 

Professional Development: 15-20 formal opportunities per contract year that promote technical and non-technical skill mastery
What does the probationary training period require?
The 16-week probationary period lets new instructor
s
asses
s
their readiness for the role of full-time instructors,
as
well as
allowing
Chesapeake Bay Outward Bound School (CBOBS)
to determine
their
ability to meet all job requirements
.
U
pon
satisfactory
completion of the probationary
training
period,
you may be offered
a position as either a per diem or full-time exempt instructor with
CBOBS
.
During and after the probationary training period, employment will remain "at-will."
A
s an "at-will" employer, the length of your employment
is not for any fixed term and may be
terminated
by you or the
CBOBS
at any time for any reason, with or without cause, and with or without notice. No promise of continued employment, or of termination only for cause, shall bind the
CBOBS
.
What is the schedule like?
During training, you will be doing all sorts of different work to get you a taste of everything we do. You can expect to work approximately 18—23 days a month
during this time, and you'll be notified of your expedition programs well in advance. Once you transition to
per diem
employment, you will be given a work agreement at the beginning of each season that outlines your expedition programs. During and after training, you will receive your schedule through the When I Work scheduling app. For single day work, you can expect your schedule to be final at 2 weeks out.
What is a typical day like?
There aren't many "typical" days as an OB instructor; it all depends on what kind of work you are doing that day! You might be in the backcountry on an
expedition or
facilitating a day program on our high- and low-ropes course at base. When you're not directly instructing, you might be supporting our logistics team
with
putting away
gear or
driving
an expedition crew back to base
on their last day of expedition. You will get to experience all the work CBOBS has to offer in training after you start!
What is your hiring process?
While we are accepting applications year-round, we have two main starting periods for incoming instructors. One in mid-March, and one in mid-July. Both start dates kick off an extensive instructor training period including field training, logistics training, and educational effectiveness workshops.
What trainings are available to instructors?
While we value hiring people with youth and/or outdoor experience, we train to meet excellent industry standards in education and wilderness management. We offer instructors training in Risk and Safety Management, Technical Outdoor Skills, Facilitation Skills, and Student Support Skills.
What is the position and pay like after the initial training period is complete?
During training, instructors are paid a training stipend of $1500 a month. Upon completion, instructors will move into
per diem
employment (meaning you are paid "per day," as opposed to hourly or salaried employment) with a daily rate ranging from $105-120 depending on competency and program type. Once instructors have
a proficiency
in all aspects of CBOBS programming they are encouraged to apply
to
the Full Time Exempt (FTE) role, which is a salaried and benefitted role starting at $20,000
per
year. As a perk of employment, CBOBS offers all instructors in training and any instructor who works
in a student-facing part time capacity
, room and basic board.
What populations does CBOBS work with?
We work with a diverse population of people and students of all ages, 11 through adult. The majority of our programming however is with teenage and college-aged students across the Baltimore and Washington, DC regions. Throughout the spring and fall, we regularly partner with a range of Public, Charter, and Private schools and students 7th grade through 12 grade to run both day programs and multi-day expeditions.
Can I work part-time?
Yes, once you have finished training. We consider part-time work to be an average of 10—15 days per month, and we have similar minimum work requirements for living in our staff house.
What does room and board look like?
Shared community housing is available for the duration of your time instructing with CBOBS. The recently remodeled historic mansion is located at our Baltimore base, with shared bunk rooms, community kitchen, laundry, library and porch. The Leakin Park location is one of the largest city parks in the country
with
plenty of hiking trails within your own backyard.
Food staples are provided and personal food that is labeled is welcomed. 
I have some questions about the application process. Is there someone I can talk to?
Chesapeake Bay Outward Bound School prohibits discrimination against any student or applicant because of race, color, religion, sex, gender, ethnic or national origin, sexual orientation, qualified individuals with disabilities on the basis of disability, or any other category which may be protected by applicable state or federal law. Chesapeake Bay Outward Bound School also promotes respect for all people, and will not tolerate harassment based on any of these characteristics nor on differences based on gender identity or expression.
At The Chesapeake Bay Outward Bound School we believe that the most successful communities are made up of many perspectives and lived experiences. We want to hear your story and give you an opportunity to lead. We hope to eliminate systemic barriers to entry through the following hiring strategies. Learn more about our staff hiring practices.