Instructors coming into Chesapeake Bay Outward Bound School kick off their tenure with a extended training period that is meant to prepare them to become full-time instructors. Formally known as the Instructor Apprenticeship, this training period is a highlight for many starting their time at CBOBS. Both program support work and field instructing provide new instructors with experience and knowledge that will be formative for their career and community as an instructor.
Preface
Fulfilling. Energetic. Immersive. Growth. Current instructors chose these words to describe their Outward Bound Apprenticeship. Many instructors consider this position to have been an exceptionally influential time in their lives. The focus on self-development, experiential learning, and community sets the tone for your tenure at Outward Bound. Whether you find a trail you have never traversed, or strength within yourself that you haven't yet seen, you will make new discoveries; externally and internally. 
It is common to feel nervous or anxious as the start date of your apprenticeship grows nearer; after all, you are not only starting a new job, you're joining a community. A family. Current instructors want you to carry one main piece of advice with you: Do not hold back. Willingness to embrace this experience is essential to reaching its potential value. Failure at Outward Bound is not just tolerated, it is encouraged. To put forth your best effort and fail, with proper reflection, is an excellent way to learn. By doing so, you will better understand how to embrace challenges for the process, rather than the end-result. Thus, you will become better at understanding what your future students are experiencing, as well as motivating them; this is the ultimate goal of the apprenticeship.
Prior to first day
It may be daunting to apply and agree to a position with an organization such as Outward Bound. Backpacking, experiential education, group-building, etc. are not skills/experiences that many schools or workplaces offer. However, the goal of this apprenticeship is to develop these, not capitalize on them. As you're deciding whether or not to apply, or as your start-day grows nearer, please remember: you can do or learn anything that Outward Bound asks of you based on your character, not your experience. Instructors have, and will, come from all walks of life.
Apprentices' willingness to learn and openness to new experiences is more indicative of a successful instructor than solely coming in with prior experience. Regardless of your education or career path, you may be a great fit for CBOBS. To excel with Outward Bound, you do not need prior-knowledge. All you need is a desire to help others grow and develop yourself with the tools and support you are given. 
Your First Day With Outward Bound
The first day of the apprenticeship provides you with the first true idea of what the rest of the season will bring. In addition to logistics and policies, you will begin to learn more about your co-apprentices - the people who will likely become your closest companions through the next few months. Moreover, this day will act as a "tone-set" for the following weeks; a staff-travel expedition with your co-apprentices that will give you your very own Outward Bound Experience. 
You will likely have some preconceived ideas of what it will be like when you arrive at the base for the first time. Perhaps you've scoured the Outward Bound website for information, or used the internet to find what others have thought of their time here. That's totally fine. Hopefully you will gain some insight that lessens any feelings of apprehension or anxiety you are experiencing. Maybe it will help you feel confident that you are prepared, and ready to take on this adventure. Regardless of what you know coming in, be prepared to experience something new. Accept these feelings, carry them with you, and use them as motivation to explore your new community. 
Staff-Travel
Your staff travel will put you in the shoes of a student. Spending days backpacking on trails, canoeing down rivers, or embarking on a variety of other adventures, you will experience an Outward Bound expedition- facing challenges, adversity, and discomfort.  A student once told me that "Outward Bound isn't trial by fire, it is trial by uncomfortability," and ideally, this will ring true. Your instructors will decide the goals and itinerary of your trip. They are two seasoned instructors with a dedicated goal: to help you grow. Not just as an instructor, but as a person. 
Depending on the season, your staff travel may last anywhere from 5 to 10 days. You will spend your first day with your co-apprentices, packing your packs with the gear from one of the Outward Bound lockers that contain everything you need for an expedition.  Dividing the gear and food among yourselves will be one of the many times your crew works together for a common objective, and therefore the beginning of something excellent.
Ideally this expedition will afford you a diverse and exceptional collection of experiences. Every day you will encounter a number of situations that are completely unique to you and your crew. Leaving a lasting memory and bond that you can only relish with those that accompanied you on that trip. You should carry these with you, as your role as an instructor is to create opportunities for others to have their very own defining moments; ones that may very well change their outlook and trajectory.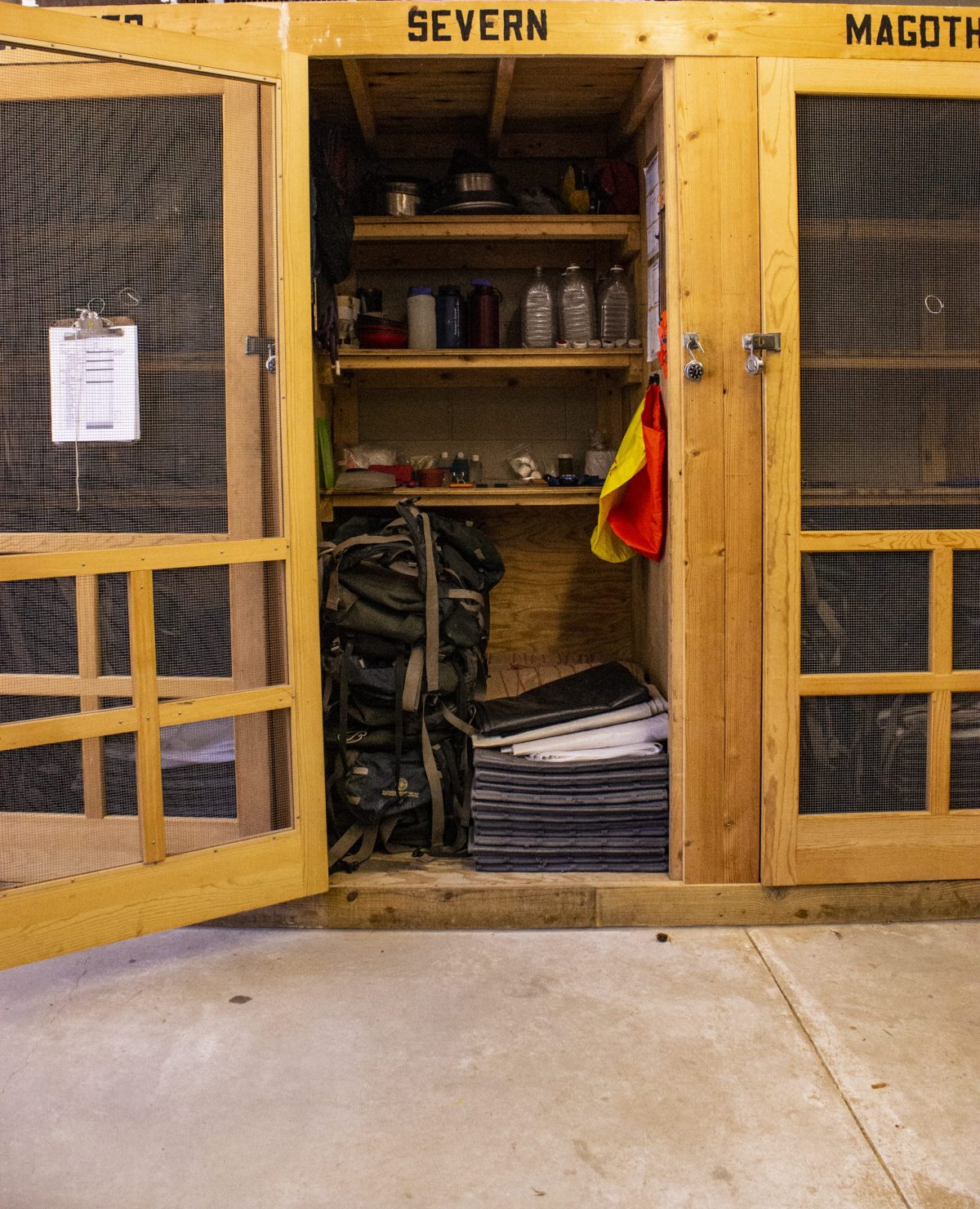 Outward Bound Courses
After your staff travel, the first time you will officially be in "the field" again will be on course with students. Recent apprentices have described the first course as a "whirlwind", and it offers one of the greatest learning opportunities of your season. Your co-instructors will often utilize the learning-by-doing method, encouraging you to take initiative where you feel comfortable. Or, at the very least, comfortable with pushing yourself. This takes shape in games, lessons, or conversations with students. You can also take a less involved role and absorb as much information as possible. Regardless of the method you choose, you'll continue to undergo unfamiliar happenings - what you learn in the process can be added to your instructor toolkit. Throughout these weeks you will continue to foster trust within yourself: confidence that you can take on challenges that previously intimidated you, and further your growth. A beneficial cycle.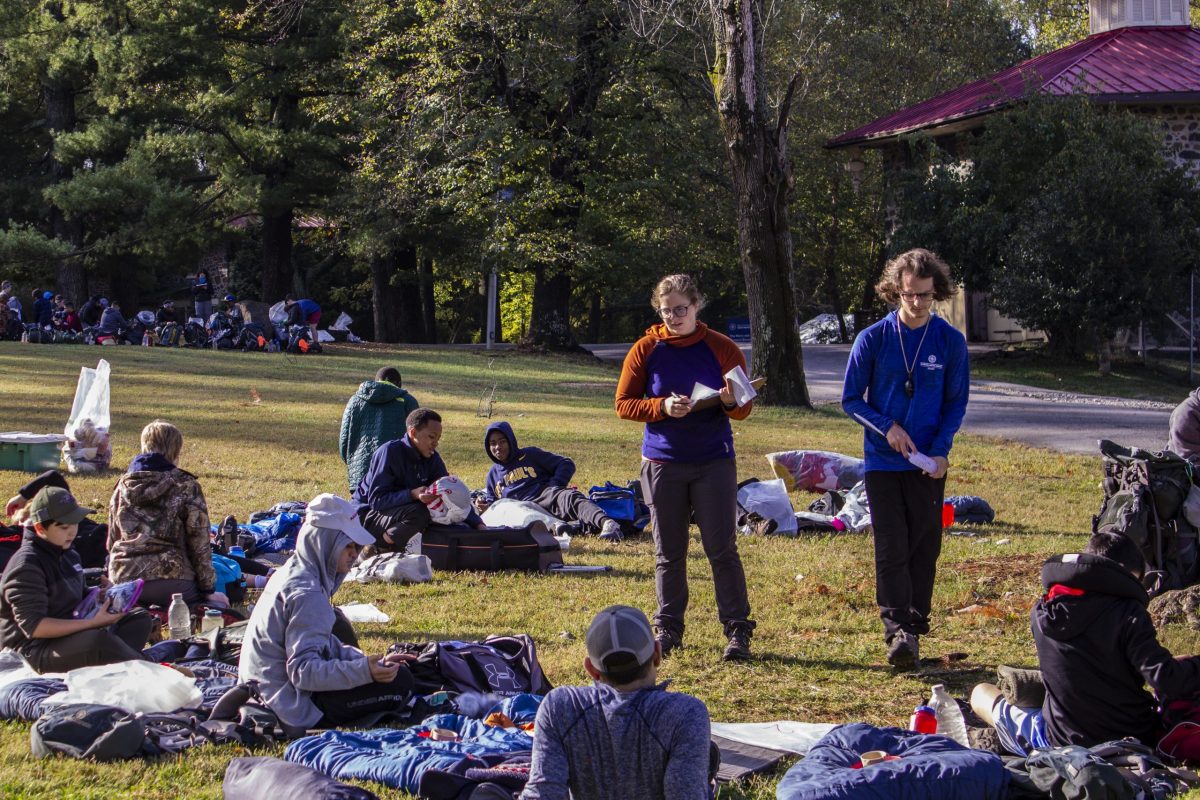 What you learn and do on course may have a genuine and lasting impact on the lives of others. In addition to helping students make life-long relationships and memories, you have the ability to change their outlook as well. From surveying thousands of Outward Bound Students who have attended a course, over 90% stated that their character improved as a result, and 94% said that they have more confidence in themselves after completing their course.
This is the time to take risks, ask questions, and begin to discover what works for you, as everyone at Outward Bound has a unique leadership style. It is not just the goal of instructors to help students grow, but to help one another grow. This course will provide your first contact with students, and as a result, create the foundation from which you will continue to progress. 
Life on the Outward Bound Base
When not on course, you will spend much of your time at the base. Leakin Park, the 1,200 acre park that Outward Bound calls home, is the second largest forested urban park in the United States. You will be engaged with work on many of these days; they are known as insight, support, and logistics. Insight days consist of facilitating single-day program students through challenges, ropes courses, and activities. Support days entail assisting groups that are in the field; possibly bringing them food or driving them to the trail. Logistics days are spent around base, helping staff with various projects. These days teach you all elements of the Outward Bound operations that keep the base running and develop your leadership skills in ways that you might not encounter on course. 
Although Outward Bound offers abundant opportunties to work, the emphasis on work-life balance provides you with time for personal endeavors.  Much of this time is spent around the Orianda: the historic mansion built in 1856 that many instructors call home. The Orianda has been renovated multiple times to meet the housing needs of our staff. Many bonds are built and relationships are fostered here. Throughout all hours of the day you can find your housemates occupying the library, ballroom, porches, kitchen, and bunk-rooms. 
There is also life away from the Orianda. The forest that the deck overlooks is teaming with trails, history, and art. You'll often find festivals and events in the local parks, and Baltimore City is only a short drive away . Additionally, many instructors find commonalities in hobbies: rock climbing is a popular one, others pursue creative endeavors such as playing instruments or photography. Regardless of what you choose to engage in, it is easy to find others bring along. 
Past the Apprenticeship
As you progress past your first season with Outward Bound, transitioning from an apprentice to an assistant instructor, you will see how much you have grown since your first day. The unfamiliar faces that first welcomed you will now be a community that you can call home, and your "toolbelt" will be filled with the incredible leadership skills that you witnessed in others. However, this is where your Outward Bound experience truly begins. As the founder of Outward Bound, Kurt Hahn, once said:
"There is more to us than we know. If we can be made to see it, perhaps for the rest of our lives we will be unwilling to settle for less." 
Our goal at Outward Bound is to show you what you are capable of, because we are sure it is monumental. 
This is still the beginning, as the development that Outward Bound fosters is a life-long process.
Words of Wisdom From Current Instructors
"If this is something you've ever wanted to do, now is the time to do it. There are not many internship opportunities that allow you to just show up ready to learn."

"You won't always know what is going on or what is next. It's okay to be nervous, and if it's something you're interested in go for it for sure."

"Trust the process, but speak up for your own learning - advocate for yourself."




"Don't hold back - Apprenticeship is a time to learn and a time to learn about yourself. There is no reprimand for failure, it is very forgiving, so try. Ask for everything and anything when you feel ready."

"Do your research on schools and programs because they're all so different."

"Dive head first in and embrace the immersion, because once you embrace the immersion you allow yourself to buy into the experience - once you buy into the experience, you allow yourself to grow."

"If you put 100% into everything, you'll get it back."

"Be open to things you aren't used to or things that are different. It is very humbling to working with students and working outdoors in general - give yourself space to be humbled by the process and the experience."