MORE THAN A FIELD TRIP.
You're one step closer to having your students visit us at Chesapeake Bay Outward Bound School! Now that you've completed our enrollment paperwork you can start to think about what the day with our staff will be like, and how you might come best prepared. Below are a few resources to help you do just that.
REGISTRATIONS:
Check that all participants have registered*. You'll find the link to your groups registration roster in your inbox!
*All group/school staff attending the program must also complete our participant waiver
We've sent the registration link to your inbox. Parents will need that to register their child.
You can also send parents and students to THIS LINK for info all about their Outward Bound day!
CLOTHES & SHOES: We will be outdoors all day! Please encourage your students to wear appropriate clothing and athletic shoes (no sandals!). Rain-jackets are provided in case of rainy weather.
STUDENT MEDICATIONS: please monitor that students bring emergency medication with them such as epi pens, inhalers, etc…
WATER BOTTLES (If students have them)
LUNCH! We do not provide lunch, please coordinate lunch to be provided through school or have students bring lunch. If you're planning to order lunch for delivery, please schedule it to be delivered by 11:30am.
You can send parents and students to THIS LINK for info all about their Outward Bound day!
Through both fun and challenging activities, we work to guide groups of students to learning outcomes centered around our educational model, the Domains of Thriving.
Students will spend the day with an Outward Bound Facilitator participating in a series of group activities intentionally designed to meet pre-identified learning goals and develop SEL skills in your students.
Outward Bound staff use guided discussions to draw out learning and help students link learning back to their lives at home, school, and in their communities.
Most groups visiting our Baltimore Campus have the opportunity to climb our high ropes challenge course. We've designed our climbing to incorporate the entire group, so students will have the opportunity to be a climber, belayer, peer coach, etc… We ask students to step into their "challenge zone" but never force them to climb something they feel is pushing them too far into their "panic zone".
Still have questions? Keep scrolling for more info
Nobody thrives when they're being forced or coerced to do something they don't want to do.
Even when these 'things' are good for you, an approach that gives students the power to choose will always be more successful than feeling pressure to participate because of a threatening external factor such as peers, teachers, or instructors.
You'll see Outward Bound staff utilizing an educational practice we call "Challenge By Choice". During physically, emotionally, or socially challenging activities, staff will often share various "levels" of challenges that students can take in that activity.
While we won't ask students to completely opt-out of the activity, we may offer alternatives for participation. We believe this boosts self-efficacy, motivation, builds perseverance wholistically, and is a trauma-informed approach.
It's More Than Just Saying 'No'
Embracing the Challenge by Choice approach is more than simply allowing students to say "No" and pull out of an activity.
Honoring Challenge by Choice allows people to pull back from a challenge that may push them into their Panic Zone, and rather than pull out, invites them to find another role (hopefully within their Stretch Zone) that works for them.
For example, allowing an individual to choose not to be physically carried across the 'peanut-butter' pit as part of the Nitro Crossing team-building exercise because they would rather participate in the physically gentler problem-solving process. Or, instead of addressing the whole class, each student is invited to share their response to the teacher's question with a partner or small group.
Our instructors strive to create an environment in which all students can make appropriate choices, consistent with the goals of the program.
Credit goes to Mark Collard and the Playmeo Team for helping us articulate Challenge by Choice so well.
We're so excited to have you join your students for a day with Outward Bound! These are a few helpful ways that you can help create a meaningful day for your students!
Be Curious, Engaged, and Enthusiastic!  
If you're engaged with each activity, following instructions, and being enthusiastic, it helps the students see it as a worthwhile thing to do. If you are disengaged, students get the opposite message.
Help Support and Refocus Students:
To figure out how to support students individually, notice how they show up during learning experiences:
Withdrawn – invite them into a task/role
Left out – invite them over to the group
Acting out – help give a leadership role
Appreciate them if they change their behavior and engage in some way—everyone thrives on knowing that someone notices they are participating. If a student is being consistently disruptive to the learning of the group, take them aside or on a walk to check in.
Help Make Connections:  
Experiential Learning can look and feel different! You can help students make connections to their home/school lives by asking questions and co-investigating instead of telling students what you want them to know.
Participate strategically and mindfully in discussions:   
During whole group discussions, it's OK to share an interesting question or an idea, but hold back from taking over the discussion, or contributing more than a couple times. Our goal is to help empower students to share their ideas and think together, so it's important to listen more than speak!
WHERE IS THE PROGRAM HELD?
We offer three main locations for one-day programs so be sure to know which one you're going to. We also offer programming at your school or facility.
Most of our Baltimore and Maryland schools will visit our main campus in Baltimore's Leakin Park. Our DC-based programs may occur at one of the two parks listed below.
Reach out to our team if you need any additional details or to confirm your course location.
Leakin Park
1900 Eagle Drive.
Baltimore, MD 21207
Palisades Recreation Center
5200 Sherier Pl NW
Washington, DC 20016
Marvin Gaye Recreation Center
15 61st St NE
Washington, DC 20019
Your Location
We occasionally offer programming at local schools.
WHAT IT MIGHT LOOK LIKE
Keep in mind that each and every program is designed for your group of students, so all of our photos and videos are just examples of the activities students may complete. You may not even be doing high ropes elements, but no matter what, we work to deliver a meaningful day of impact for you and your students.
DOMAINS OF THRIVING
At Outward Bound we believe that social, emotional, and intrapersonal skills are vital to the development of all youth. We use our educational framework, The Domains of Thriving, as the basis for our programming.
The Domains of Thriving framework and tool combines Outward Bound's 50+ years of experience facilitating life-changing experiences with the latest insight and research on social-emotional development. The Domains of Thriving highlights the four areas of human development that are impacted on an Outward Bound course: Courage, Belonging, Reflection, and Physical Engagement. It also identifies eight specific social-emotional skills that our students are supported to develop: Perseverance, Assertiveness, Group Relationships, Teamwork, Self-Awareness, Social-Responsibility, Self-Regulation, and Physical Confidence. Surrounding all of this are our Conditions for Learning, which provide the foundation for transformative learning experiences.  
Our goal is for students who come through our programs to leave with a stronger bond with their group, a sense of achievement from completing an activity or climbing the ropes course, and development in social-emotional skills such as teamwork, self-awareness, or perseverance. Outward Bound works with your child's school or group to determine specific goals for the program.
WE OCCASIONALLY SURVEY STUDENTS ABOUT THEIR EXPERIENCE:
During your program with us, we may administer a short 10 -20 minute student survey. These surveys are designed to help us evaluate and improve our programs, and allows us to know how youth are experiencing Outward Bound!
Parents have the opportunity to opt out of the survey during their registration process. Student's responses to these surveys are kept strictly confidential, student names will never be used in any reports and results will be reported in aggregate.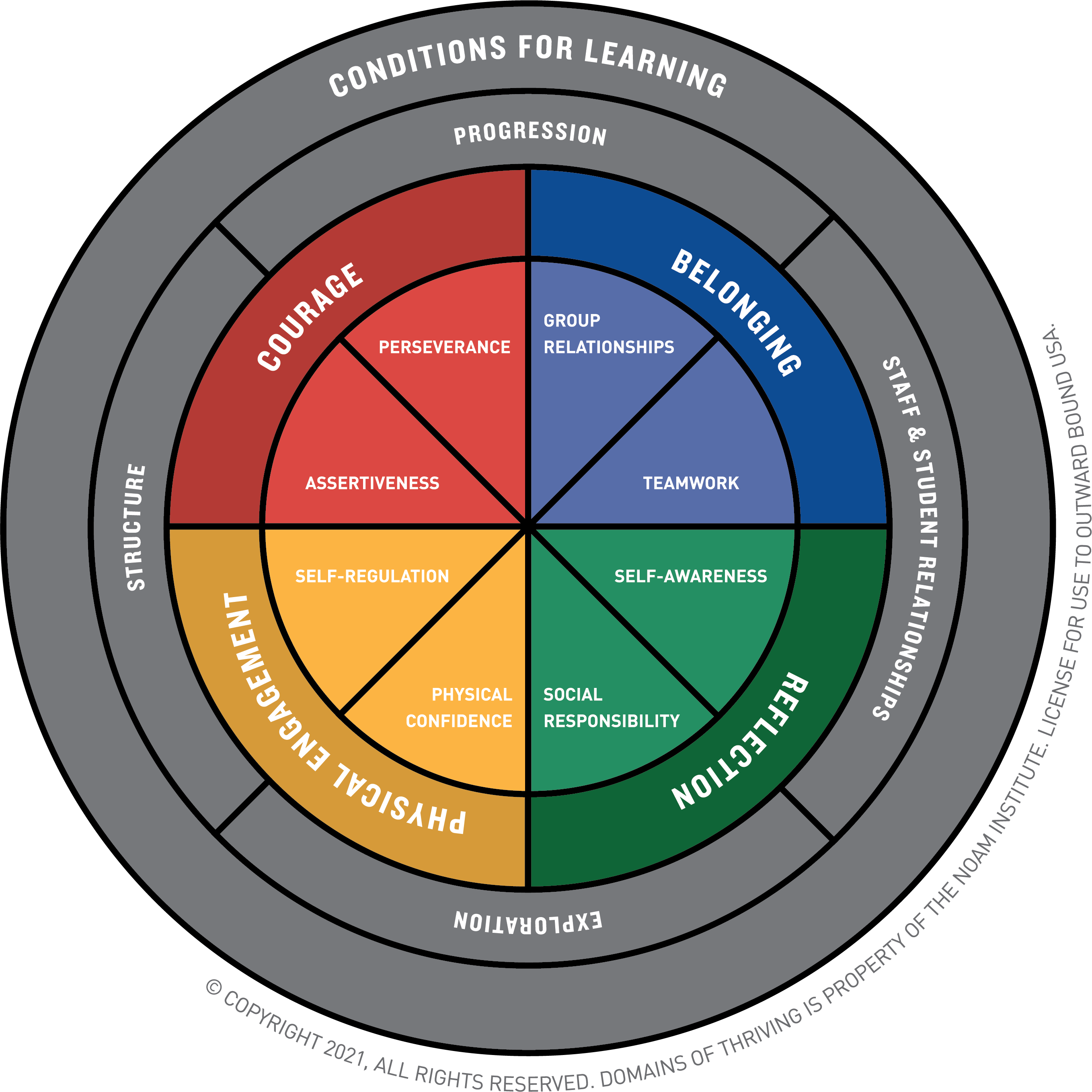 OUR STAFF
Our instructors are not camp counselors – they are highly trained experiential educators.  Our staff complete a minimum of 80 hours of training annually. All of our staff are required to pass Federal and State background checks. Becoming an Instructor requires the demonstration of excellent decision-making, student-management, and hands-on learning skills. Outside Magazine even named us one of the best places to work!
Below are a few members of our day program team so you can learn a bit more about the professionals who will be educating your students at Outward Bound.