BELONGING is a sense of connection and inclusion in relationships.
This process involves empathy and a commitment to creating a healthy group.
Belonging often involves sharing and trust-building and provides an experience of safety and community.
We work with students on key skills in GROUP RELATIONSHIPS and TEAMWORK to develop Belonging.
Key terms associated with belonging: Friendship, love, care, affinity, affection, attachment, kindness
Students build a connected and cohesive group where each student's unique contribution is valued.
Connections: Students have fun together and explore common ground in order to create and maintain supportive relationships.
Valued: Students share their unique interests, skills and talents and acknowledge each other's unique contributions.
Cohesion: Students use shared experiences, goals, values and language to motivate and unite the entire group.
Students create a shared plan and use communication skills that allow them to work together to solve problems and challenges.
Shared Plan: Students have the time and the structure within an activity to create a plan or strategy so that they have shared goals and tactics.
Communication Tools: Students have communication tools or familiar routines that support them to work together, communicate effectively and resolve conflicts.
Collaboration: Students encounter real or simulated problems or challenges that require them to apply skills, such as planning, communicating and resolving conflict, in order to become more efficient and productive at working together.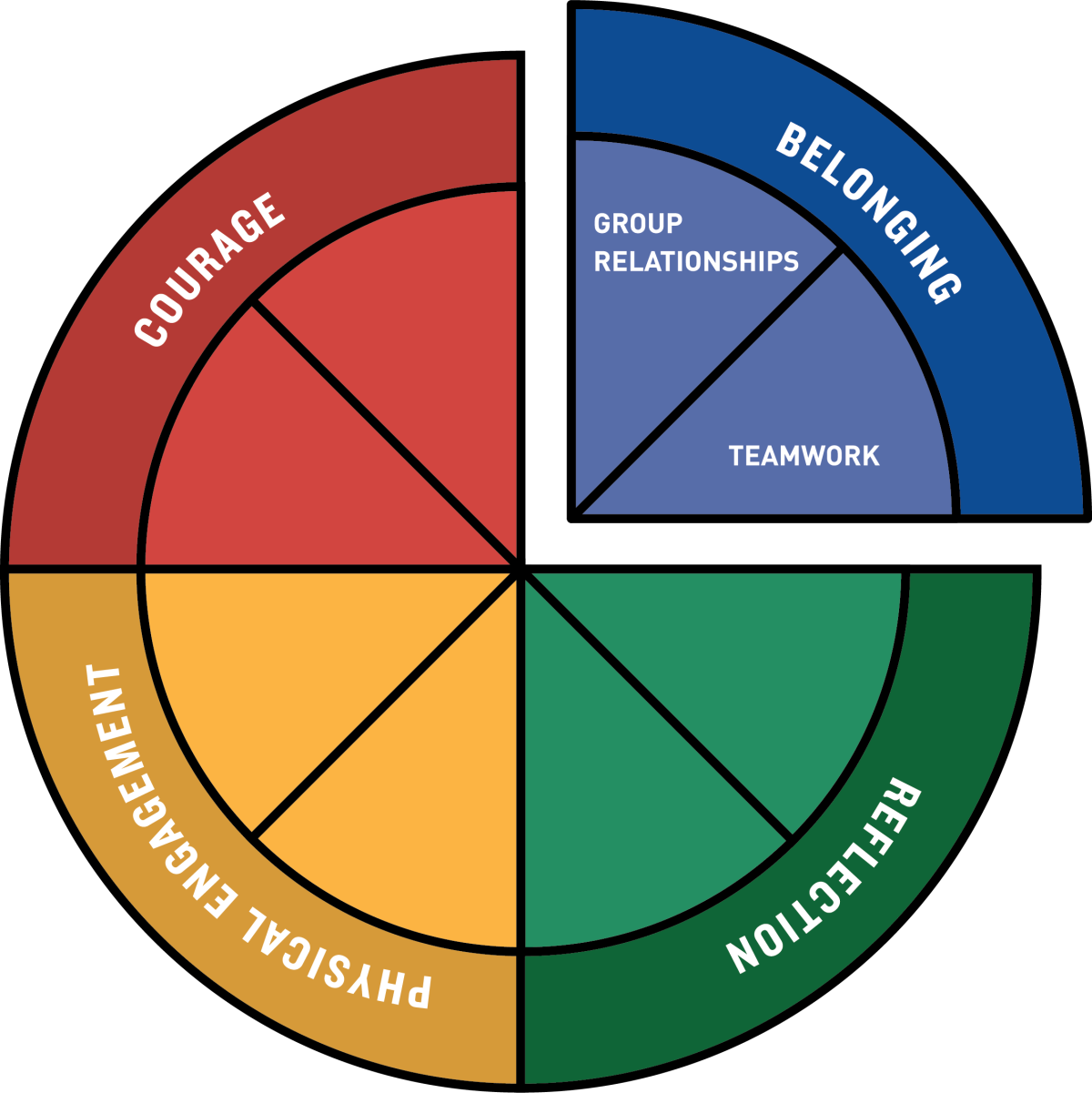 Student Impact
The Outward Bound Outcomes Survey (OBOS) measures student self-reported change in key social and emotional skills at the end of an Outward Bound program. Through our partnership with PEAR and the NOAM institute, we use outcomes data for program improvement and to share back to our school partners. 
Group Relationships has the largest amount of growth across all of our programming.
A student's sense of connection is foundational to increased learning and decreased negative behavior.
86% of students on expedition agree they can work more effectively as a group after an OB program.
Workplaces are reporting a deficit in new employee SEL competencies. We're developing skills that young people need later in life.
More females on Expedition report change in Belonging outcomes than males.
Young females often report higher levels of loneliness. Let's change that.
BELONGING MINDSET
The research on social belonging is definitive: you can change a kid's mindset about belonging. And that can make all the difference.
"During transitions, worrying about finding a social niche is natural. What's pernicious is the inference that things will never get better. And unfortunately, uncertainty about belonging for students is reinforced when, in fact, very few life experiences prove that 'this is a place for kids like me.'
How can we help all kids slip into positive, instead of negative, cycles?
In the study of college persistence … social psychologists worked with educators on our interdisciplinary team to design a 45-minute online social belonging intervention. The idea was to interrupt the self-fulfilling prophecy of social exclusion, particularly among socially disadvantaged students.
The intervention took place in the spring of senior year in high school and included stories and survey data from kids just like them, but a few years older, who'd already made the transition to college.
Carefully curated testimonials spoke vividly about how very hard it was, initially, to feel isolated and out of place. But they also explained how over time, pretty much every freshman—no matter their background —discovers that they're not the only ones feeling that way.
At the end of the intervention, so they could internalize what they'd learned, the high school seniors in this study wrote letters to other students about the challenges they anticipated in college, how common such challenges were, and how they were likely to change over time.
In that experiment as well as two others, this approach increased college enrollment and improved grades among socially disadvantaged students—closing the achievement gap between advantaged and disadvantaged kids by about a third."   
When kids find themselves in a new place and with new people, they can start off thinking, "I'll probably never belong here" or "One day, this will be home."
-Angela Duckworth, 2018
This research is brought to you through Character Lab's mission to advance scientific insights that help kids thrive.