Happy President's Day!
We're honoring our past presidents by highlighting ten who acted on our shared passion for nature, conservation and the outdoors, and have made landmark (pun intended) progress toward environmental care, awareness and appreciation.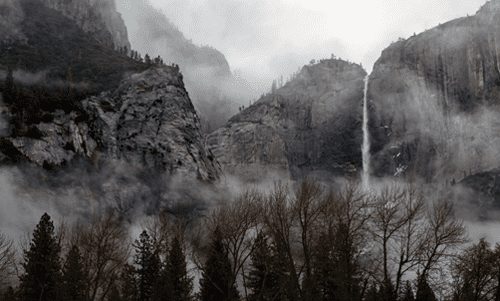 Upper Yosemite Falls in Yosemite National Park, California.
1. Abraham Lincoln
We all think of Lincoln as an outdoorsy guy anyway, having grown up in a log cabin and all, but he's also known for proclaiming the wilderness of Yosemite, California as a protected land in 1864. This proclamation was reported by the locals, whose passion for the land inspired Lincoln's actions, but also reported by none other than mountainman John Muir.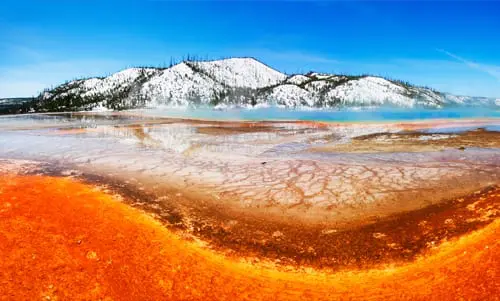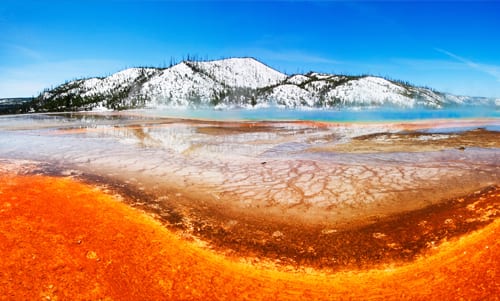 Grand Prismatic Springs in Yellowstone National Park, Wyoming.
2. Ulysses Grant
In 1872, President Grant established Yellowstone National Park, the country's first national park. Grant was also known for being one of the first presidents to publicly express that exploring nature should be considered a recreational and leisurely act.
3. Benjamin Harrison
President Harrison was an avid outdoorsman, and considered the "pioneer of national forest reserves." In 1891 Congress passed the Forest Reserve Act, which Harrison took advantage of seventeen times, setting protections for lands across seven different states and territories. Eventually he established the second, third, and fourth National Parks, as well as designated Casa Grande Ruins National Monument, the first prehistoric Indian ruins to be put under federal protection.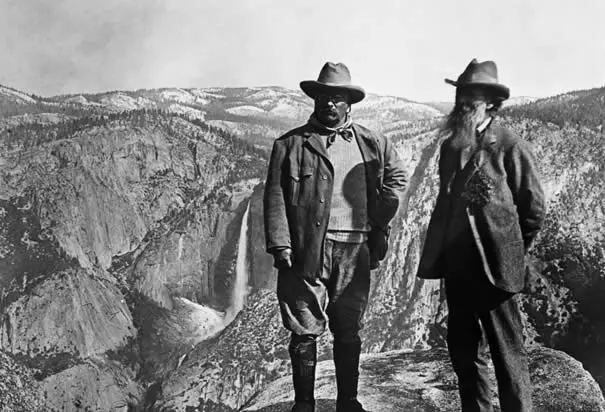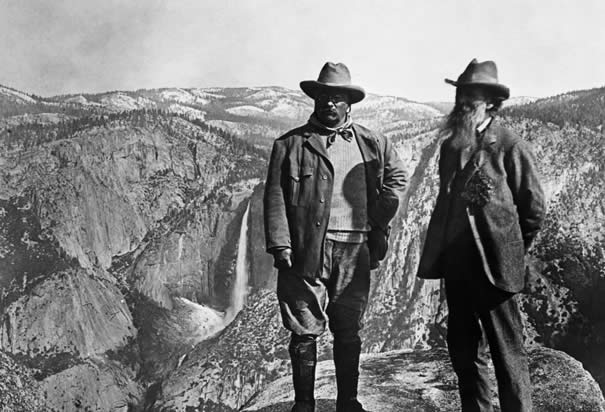 Theodore Roosevelt and John Muir at Yosemite National Park.
4. Theodore Roosevelt
We like to think Theodore Roosevelt liked bears before their plush counterparts were named after him. This president created 150 national forests, 51 bird preserves, 4 game preserves, and with help from congress expanded national forest land from 43 million acres to 194 million acres. He also enacted the Antiquities Act in 1906, which allowed presidents to designate national and cultural landmarks.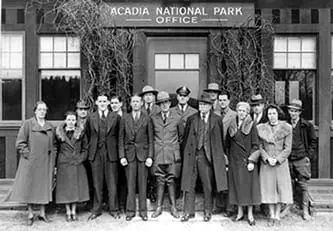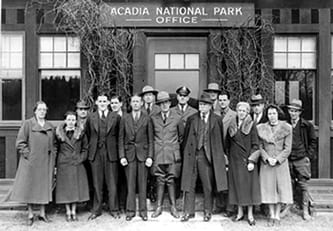 Early park rangers and supporters of Acadia National Park, Maine. Photo Credit: NPS.
5. Woodrow Wilson
In 1916, after 35 National Parks and Monuments had already been established, Woodrow Wilson created the National Park Service. Wilson mandated the service "to conserve the scenery and the natural and historic objects and wildlife therein, and to provide for the enjoyment of the same in such manner and by such means as will leave them unimpaired for the enjoyment of future generations."
A poster advertising the Civilian Conservation Corps circa 1939. Photo Credit: Wisconsin Historical Society.
6. Franklin Delano Roosevelt
Perhaps loving nature is coincidental with having the last name Roosevelt. FDR created Joshua Tree and Olympic National Parks, and in 1933 created the Civilian Conservation Corps, a program dedicated to the initiation of social conservation with focus on "forestry, the prevention of soil erosion, flood control, and similar projects," according to Roosevelt himself.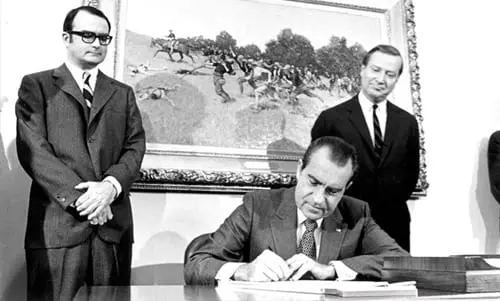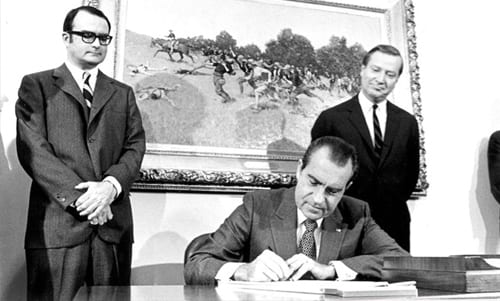 Richard Nixon signing the National Environment Policy Act in 1970. Photo Credit: National Archives.
7. Richard Nixon
Though one of America's more controversial presidents, Nixon aided the environment by establishing the Clean Air Act, one of the world's most comprehensive air quality laws; the Clean Water Act, originally intended to make American waterways safer for swimming and fishing; and the Environmental Protection Agency that would enforce both of these acts as well as many others in service to the environment.
8. Jimmy Carter
The first solar panels were installed on the White House roof as early as 1979. This was thanks to President Carter, who aimed for the panels to heat the building's water through solar power (see one in person at the National Museum of American History). Carter was also known for creating a national energy policy, and the Department of Energy to give momentum to energy conservation and regulation efforts. Carter was also recently named an Honorary National Park Ranger in 2016.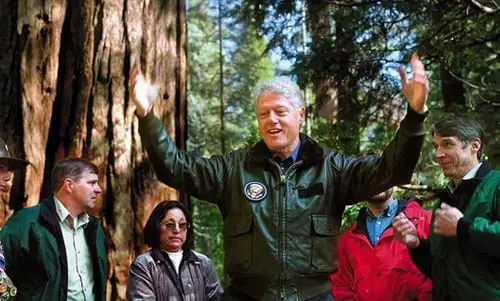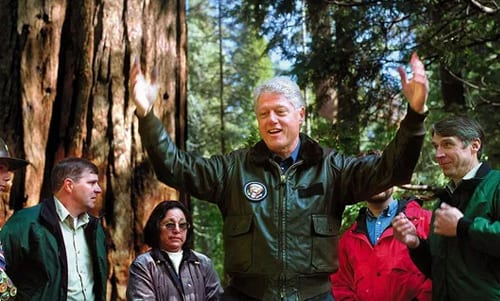 Bill Clinton at the Sequoia National Monument he named in 2000. Photo Credit: Teresa Douglass.
9. Bill Clinton
Over the course of his presidency Bill Clinton designated 19 new national monuments under the authority of the Antiquities Act Teddy Roosevelt created in 1906, putting more land into national monuments than any other president (even Roosevelt!) Clinton's administration also hoped for everyone to see these monuments and others clearly by restoring pristine skies and unspoiled views at various landmarks, reducing harmful smog-causing emissions and particulate matter from heavy-duty fuels by over 90 percent.
Dr Sylvia Earle gives Barack Obama a photograph of Tosanoides Obama. Photo credit: Brian Skerry / National Geographic.
10. Barack Obama
When we think of loving the environment, we often think of our land—but what about our water? In addition to adding protections to 553 million acres and 29 national monuments, President Obama also extended marine waters protections in Northwest Hawaii, creating the world's largest marine reserve for various precious reefs and endangered aquatic species. As a result, he even had Hawaii's newest species of fish named after him as Tosanoides Obama.