On an Outward Bound course, students can expect not only to encounter adventure, beautiful wilderness, and great backcountry meals, but another key ingredient to our programs: challenge.
Without challenge, our programs are merely vacations, and their impact would last just as long. But with challenge, we broaden students' confidence, learning, and understanding of what a week in the wilderness has to offer. We use unfamiliar settings, high impact activities such as climbing and backpacking, and personal challenge events to get our students into what we call the challenge zone.
THE CHALLENGE ZONE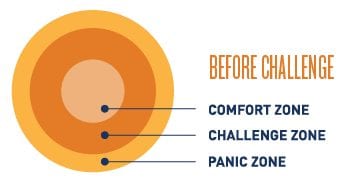 Adventure is an exciting and remarkable experience that involves uncertain outcomes, and can only be reached through the challenge zone. We push our students beyond the familiar environment of their homes and schools into nature to face physical, social, and emotional challenges that will prepare them for the future by expanding their comfort zone, and reducing their panic zone.
SOCIAL CHALLENGE
In addition to the challenges presented by a backcountry or urban expedition, Outward Bound students face the greater challenges presented by working closely with a group of strangers—communicating effectively, resolving conflicts, building a team, and making decisions. For many students, the greatest challenge at OB is not the difficulty of the activities or expedition, but instead the challenge of working with the group.
CHARACTER & COMFORT
Facing challenges develops character. When students tackle intimidating problems and stretch themselves both physically and emotionally, they develop greater confidence, increased self-awareness, and a more dynamic sense of personal motivation.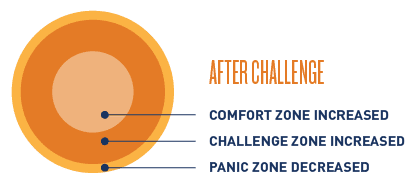 The lasting value of an Outward Bound course lies in its unique combination of adventure and challenge. Each course is a grand adventure—an unfamiliar environment, adversity amidst a group of strangers, a new set of skills to master, the inherent risks posed by backcountry travel. Every day brings new activities, new skills to learn, new risks to be faced—and new ways to grow.
TAKE THE NEXT STEP
Click here to look at our programs today to find your own challenge.