"As we think about organizations we want to partner with, who share our values of integrity, excellence and inclusiveness, Outward Bound is at the top of that list."
- DANA COOKSEY, CHIEF PURPOSE OFFICER
It can be hard to find win-win solutions in life. Luckily, that's exactly the business of both CBOBS and Brown Advisory. Working with teams in challenging situations, Outward Bound teaches strategies to make sure every member comes out on top. And Brown Advisory, as an investment firm, works to build strength for both their clients and their community. When two organizations focused on this kind of success come together, amazing things happen.
As a program sponsor of our courses for more than a decade, Brown Advisory has made that first step in the journey toward leadership possible for thousands of students from across Baltimore City. But their partnership doesn't start or end with numbers. Senior leaders from the firm have also served on the Board of Trustees for CBOBS since 2004 and have become involved as volunteers and donors on their own. Together, Outward Bound and Brown Advisory are shaping the future of Baltimore City, one young leader at a time.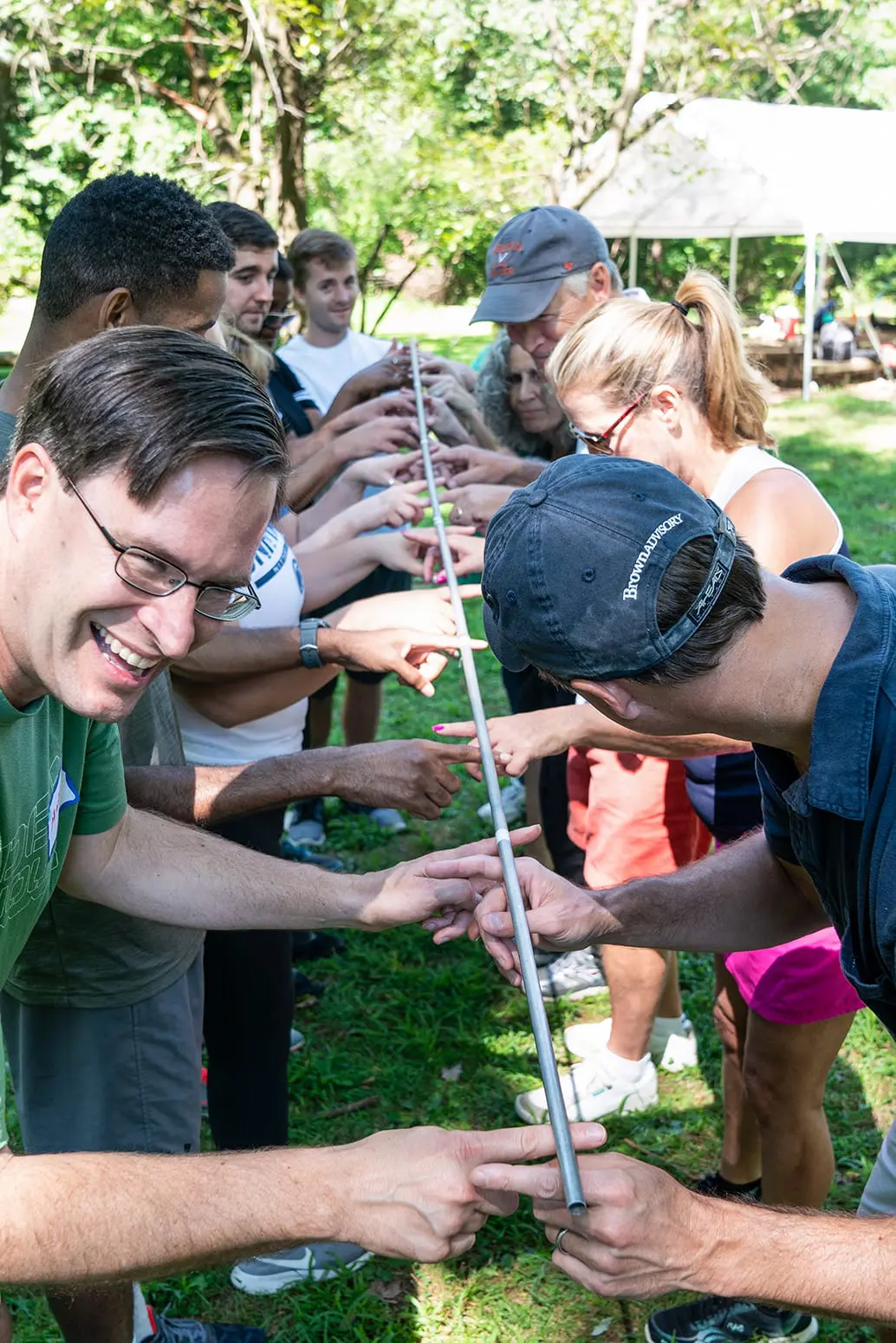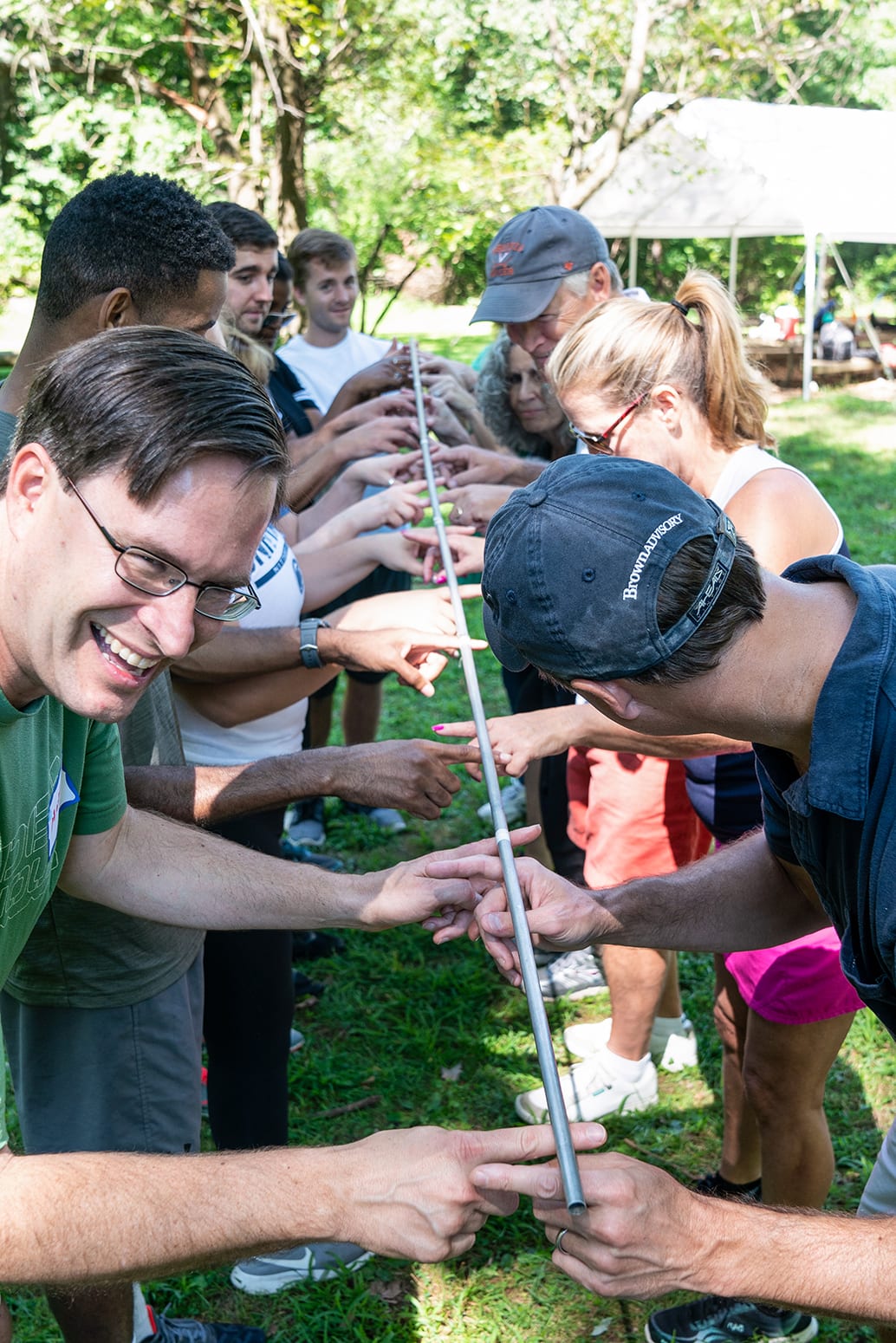 A TEAM WITH PURPOSE
"If we can create an environment where people understand where each other is coming from, they understand what's important to each other, and they work together well as a team; that's an environment where people are then comfortable challenging each other."
- MIKE HANKIN, PRESIDENT & CEO
To commemorate 20 years as an independent firm, Brown Advisory engaged CBOBS to design an Outward Bound Professional course for 630 colleagues across all of the firm's offices. We worked with our own colleagues at five other Outward Bound schools from Austin to London to deliver an experience that celebrated teamwork and allowed the Brown Advisory team to connect in a meaningful way. This course enabled them to get outside their everyday elements, practice different challenges, and examine how they solved them together.
For a team-focused firm like Brown Advisory, it's crucial to understand how best to listen to others and work together to serve clients. Small, diverse teams of Brown Advisory colleagues formed across company divisions, locations and tenure. Each team embarked on an adventure together, learning from one another, drawing upon one another's strengths, leaning into failures and celebrating success as they solved complex problems through communication, collaboration and a deepened sense of trust in each other.
"OUR PURPOSE AS A FIRM—THE REASON WE'RE HERE—IS TO MAKE THE FUTURE BETTER NOT ONLY FOR OUR CLIENTS AND OUR COLLEAGUES, BUT ALSO OUR COMMUNITIES."
- MIKE HANKIN, PRESIDENT AND CEO
A FOREVER CONNECTION
"The day was so different from any other day that many of us have had working at this firm; we'll never forget it. Still, when I walk these halls and make eye contact with someone who was in my Outward Bound group, it takes me back to that day almost immediately. It's a forever connection with those people."
- RICHARD GAMPER, HEAD OF MESSAGING
YOUR CAUSE IS OUR CAUSE
Through strategic investments in the work of Outward Bound, Brown Advisory has been able to expand its impact far beyond the office walls. Our shared goal—to develop leaders with integrity, determination, and creativity to solve tomorrow's problems—can start early in life, when young people are learning skills to tackle real-world problems and making choices about the kinds of people they want to become. Shared victories, creative problem solving, and lending hands to teammates are experiences that benefit our grade school students just as much as the Brown Advisory team.