While we've always had the privledge to work with educators that are tirelessly dedicated to their students and families, it has been through these pandemic year that we've found the importance of celebrating them even further.
"With the COVID-19 pandemic causing most schools to pivot to virtual learning, educators around the country—including those in the DMV area—were forced to reinvent the way they connected with their students." said Kelly Reynolds, Instructional Designer at Chesapeake Bay Outward Bound School. "We're educators ourselves, so we've seen how hard these last two years have been. We wanted to do something to recognize the exceptional teachers who, despite all the obstacles, strived and succeeded to help their students learn and thrive."
According to a study from Horace Mann Voice of the Educator Study, 97% of primary and secondary educators reported seeing some learning loss in their students over the past year when compared with children in previous years.  57% of those educators estimated their students are behind by more than three months in their social-emotional progress.
"We know the importance of quality social-emotional learning and strong character development, especially in challenging times," continued Reynolds. "That's why we created The Blue Heron Educator Award— to honor local teachers who went above and beyond to embodying the characteristics of agility, integrity, compassion, and perseverance—and whose dedication inspired those same traits in their students, both in and out of the classroom."
According to North American Native tradition, the Blue Heron brings messages of self-determination and self-reliance. An indigenous species to the Chesapeake Region, they represent an ability to progress and evolve, the ideas of tranquility and stillness, and most of all, determination.
In the award's inaugural year, 24 outstanding teachers were nominated by their peers, as well as administrators. A selection committee of nine from Outward Bound ultimately awarded the top honors to two area educators:  Elizabeth Bilbao, Science Teacher at The Lab School of Washington, and Richard Bianchi, Core Construction, Carpentry, and Auto Lead Teacher at Mergenthaler High School (Baltimore, MD).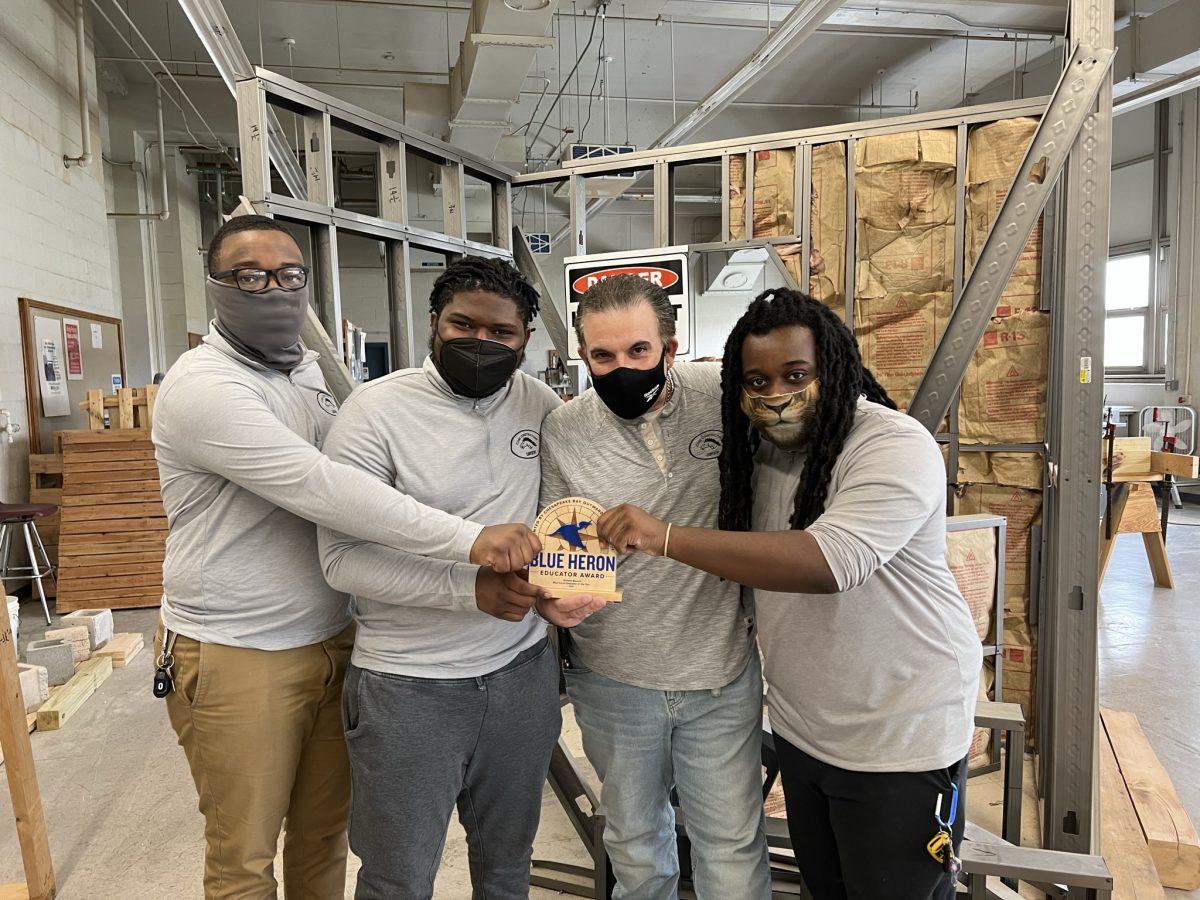 Mr. Bianchi and his students pose in front of their welding area with his award.
Celebrating Baltimore's Mr. Bianchi
Merganthaler High School, where Mr. Bianchi teaches, has been working with CBOBS for the last five years, mostly with the support of Baltimore Gas & Electric (BGE). From 2018-2020 BGE supplied a multi-year grant for Chesapeake Bay Outward Bound School which allowed 321 Mervo students and teachers to experience social emotional learning, including the virtual programs that Mr. Bianchi's class participated in during the pandemic.
"I am very honored and extremely appreciative of the fact that my students and I were noticed and recognized," said Mr. Bianchi. "I take great pride in being a part of Outward Bound, and certainly hope to continue to be an asset to the program and to provide enthusiastic young men and women, who show such interest and are so incredibly motivated." 
While delivering the award, Mr. Bianchi was joined with 3 of his students for the moment. The students, as well as Mr. Bianchi were excited to show off student projects throughout the shop rooms. The students shared multiple stories of Mr. Bianchi taking extra time and support to help students on a variety of projects, including a new set of porch stairs for a family home.
Celebrating Washington DC's Ms. Bilbao
When Ms. Bilbao learned of her award, she was "honored and happily surprised." She said, "The past year greatly impacted my students and the way that we teach. We strive to present an experiential learning process, and that was pretty tricky over Zoom. This was particularly impactful, as science has always been a hands-on class.  We worked hard to expand our curriculum to allow the kids to participate in as many aspects of the experiments as they could at home. It was important to continue to reach kids who had different learning styles and unique strengths and needs." She also credits her students for "their compassion and willingness to cooperate and to include their peers."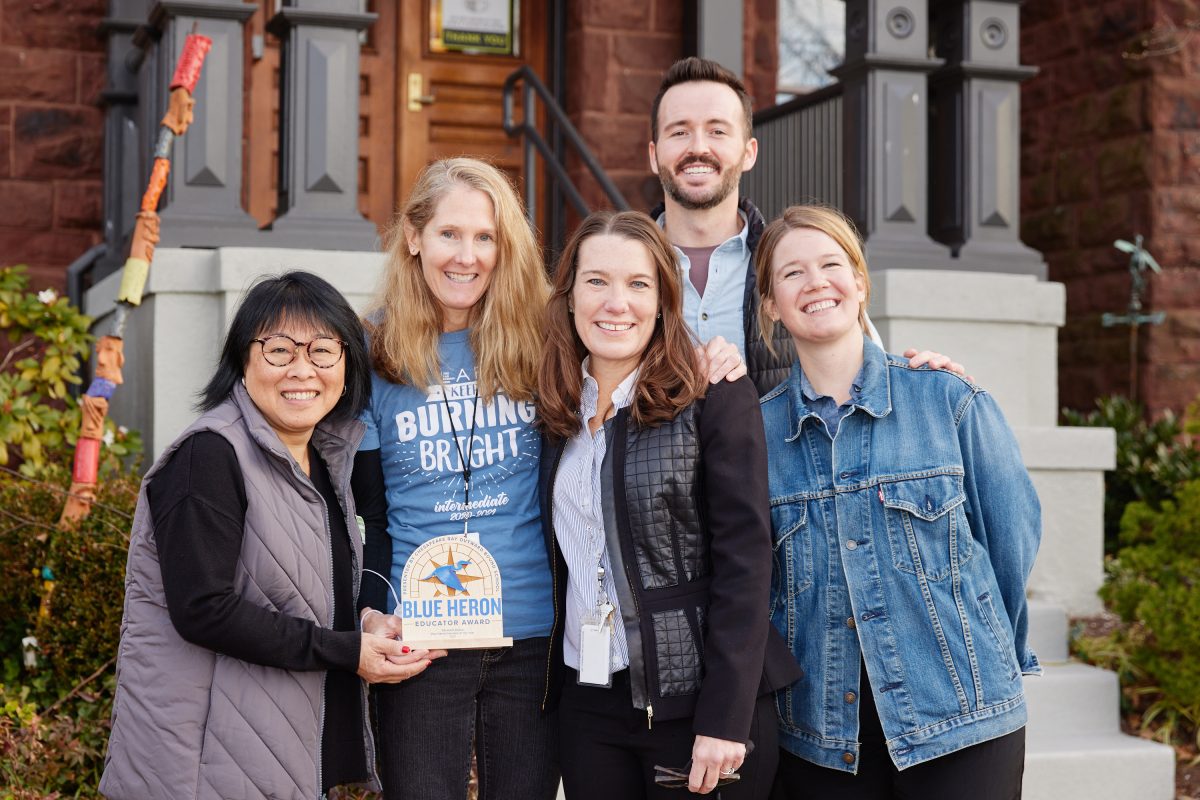 Ms. Katherine Douglas, Interim Head of Intermediate at the Lab School Washington where Ms. Bilbao teaches, acknowledged that the award was well deserved.  "Being recognized as a Blue Heron Educator affirms not only the level of expertise and care that Liz brings to her student, but also our school's commitment to providing a joyful and engaging program that meets kids where they are and takes them as far as they can go." 
It was an exciting morning as CBOBS crew went to greet Ms. Bilbao, her colleagues, and her students to deliver the award. Her students were quick to engage in a warm up game and followed up with appreciations of their teacher over the year.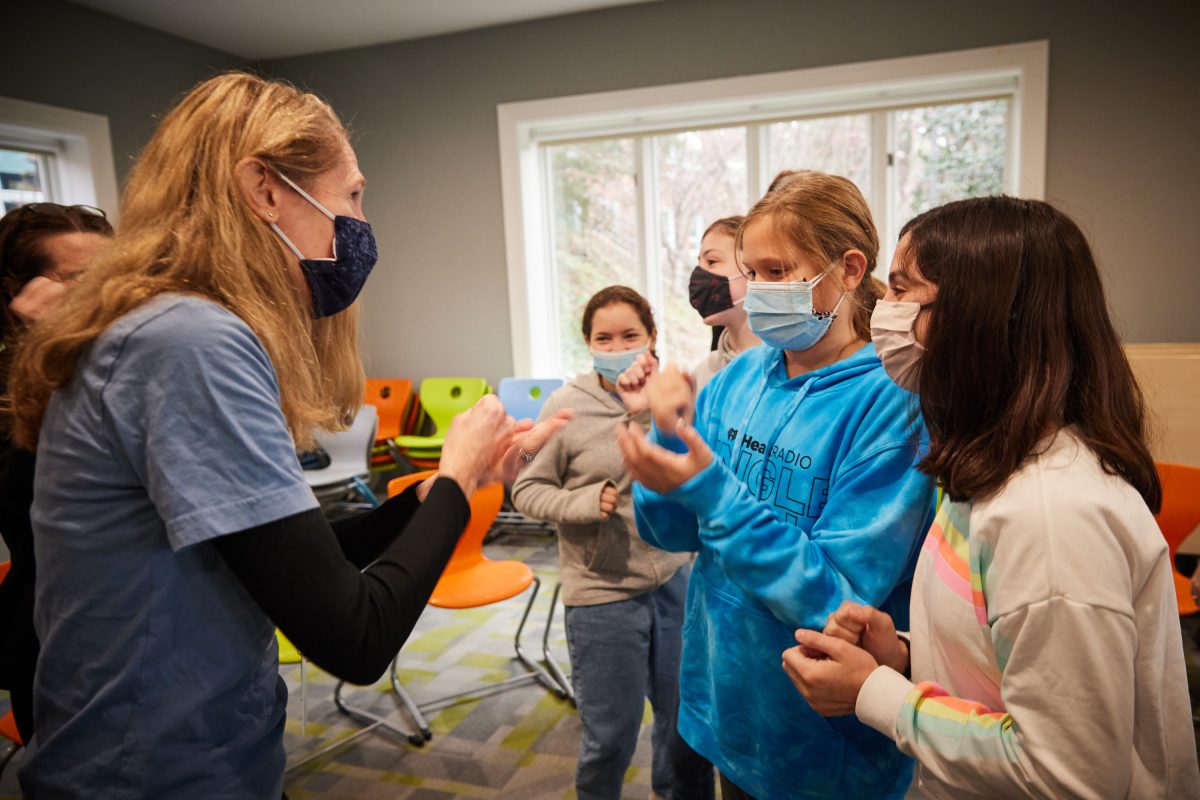 Ms. Bilbao and students playing a game in her classroom together
While the 2021-2022 school year has brought more normalcy back to the classroom, Reynolds recognizes that the characteristics of agility, integrity, compassion, and perseverance won't be any less critical. "In the years ahead, Chesapeake Bay Outward Bound School hopes to recognize more amazing teachers, and partner with more schools across the DC and Baltimore areas to help their students discover their own strength and resilience for whatever lies ahead." 
As the 2021-2022 school year copes to a close, please think about the educators in your lives and consider nominating them for this year's Blue Heron Educator Award. You can submit your nomination at outwardboundchesapeake.org/blueheron.