It's not often the leader of an organization gets their hands dirty in quite the way Baltimore Chesapeake Bay Outward Bound School's Executive Director does. An Outward Bound alumna herself, Ginger Mihalik is an avid adventurer who knows what it takes to complete the challenge of an Outward Bound course. She does more than lead the organization from behind a desk: She's adventurous and cares wholeheartedly about the work her organization does with youth in our region.
This July, she set out to visit multiple wilderness areas where the Outward Bound School runs its outdoor character education programs. It became a whirlwind tour spanning from Baltimore to the Potomac River, with stops along the Appalachian Trail in lower Pennsylvania, and all the way to Chesapeake Bay. Along the way she joined students during their backpacking, canoeing, rock climbing, and even sea kayaking adventures. Personally dedicated to providing the best experience for our students, she also scouted new remote campsites and course areas with Chesapeake Bay region experts like Tom Horton, journalist at The Bay Journal and author.
Near the end of the expedition, Ginger shared, "I've had the opportunity to spend time reflecting on the work we do, the people we serve and the impact that we make. I visited students canoeing on the Potomac River in West Virginia, backpacking on the Appalachian Trail and sea kayaking on the Chesapeake Bay. Across all of those places one thing stood out: our ridiculously talented instructors and field staff. These professionals work 24/7 to make sure our courses are the best they can be for our students. The fact is: Outward Bound would not be as powerful and transformative as it is without these amazing people. I'm honored and grateful to work alongside of the best staff an Executive Director could hope for!"
During the week, Ginger shared stories from students in the field via the school's social media channels under the hashtag #followourwake. Her first-hand account showed how much she believes in the work of Outward Bound, the impact it has on the youth the organization serves, and her own thirst for adventure.
Veteran Outward Bound Instructor Tory Haltermann shared, "There are a lot of moving parts in companies. In large companies it's easy for Executive Directors to work on the big picture and miss some of the day to day. But you don't work at a place like Outward Bound if that's the kind of ED you want to be. We ask our students to create supportive communities and lead their peers, and we ask it of ourselves. Ginger came into the field to get a taste of course and with her she brought her support."
For more information on the Baltimore Chesapeake Bay Outward Bound School please visit www.outwardboundchesapeake.org.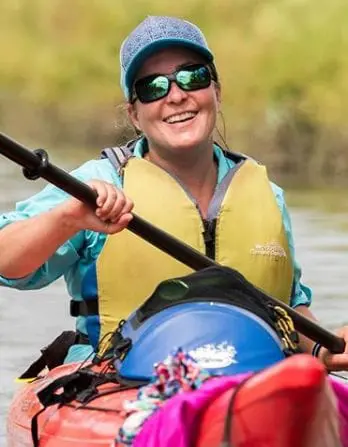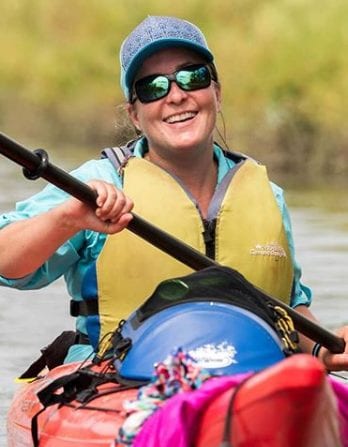 ABOUT GINGER
Like the leader of any thriving non-profit, Ginger moves a mile a minute. She has been the Executive Director of Outward Bound Baltimore since 2010. Her first experience with OB was as a student on a one-day, high ropes program. After being hired, Ginger went on a week-long dog sledding course in Boundary Waters of Minnesota. Ginger was born and raised in Florida where she developed a life-long love of the outdoors by horseback riding with her sister and fishing with her dad.
#FOLLOWOURWAKE
A Preview of Ginger's Social Takeover
Scroll through the Instagram posts below to see Ginger's takeover, and click to visit!