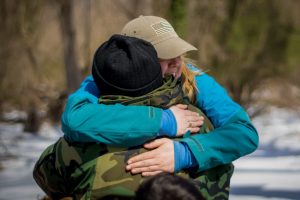 Did you know that Outward Bound has been committed to the service of our nation's Veterans for nearly 20 years?
In addition to serving our veterans, we also want to serve youth affected by the loss of a loved one in active duty. We call upon you to help us identify a young person in your life who would benefit from a scholarship to an Outward Bound expedition.
This opportunity sounds too good to be true—but it is true, thanks to the Alex Wetherbee Memorial Scholarship Fund. We just need your help to find the right student.
Below is the list of criteria for the program. If you know a young person who qualifies, please have them reach out directly to Hanibal Gnahoui at hanibal@outwardboundchesapeake.org.
CRITERIA
Open to any youth age 12-21 who is the child or sibling of a fallen Iraq or Afghanistan service member who has died in the line of duty or due to suicide.
Outward Bound will fund up to $2,400 for any course out of Outward Bound. This includes all of the food and technical gear for course.
TRAVEL TO COURSE IS NOT INCLUDED.
Expedition must begin in 2018.
Applicants will be asked to submit a one-page (500-word) essay outlining their eligibility for and interest in the scholarship.
Scholarship recipients are expected to submit a thank you letter immediately following the course describing their experience.
Please feel free to pass this information along to anyone and everyone! And, thank you for your support.
---
About the Alex Wetherbee Scholarship Fund
This scholarship recognizes the life and service of First Lieutenant Alex Wetherbee, United States Marine Corps. Alex was a member of the 3rd Assault Amphibian Battalion (Camp Pendleton) when he gave his life in service to his country near Fallujah in Iraq. He was actively involved with Outward Bound as an instructor and was an inspiration to others through his volunteer service and constant pursuit of new challenges. Through the generosity of many donors, Harry and Doris Wetherbee, Alex's parents, established this scholarship fund to provide tuition assistance to the survivors of military service members killed in action who would like to attend an Outward Bound course.