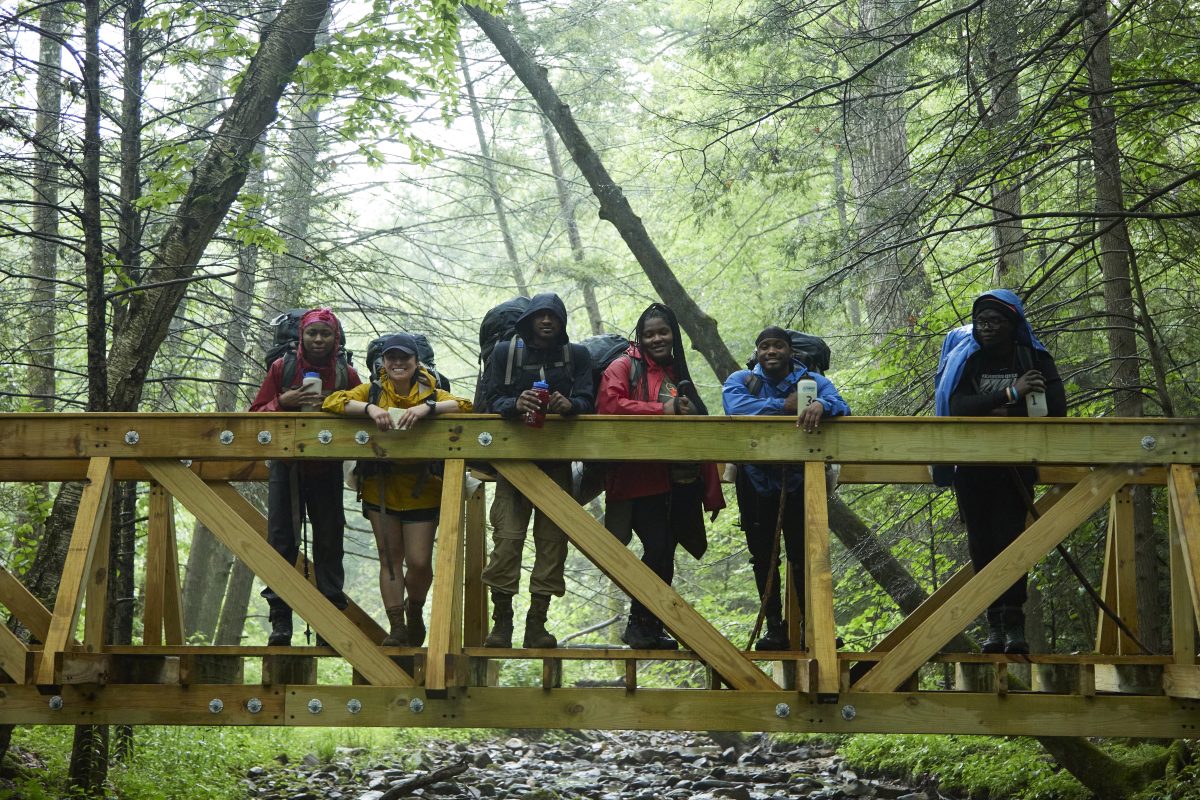 Year One
A new ROTC program and partnership wraps up its first year with Reserve Officer Training Corps (ROTC) cadets from Bowie State University and University of Maryland completing a five-day wilderness expedition on the Appalachian Trail. The week-long challenge was the final step in the first year of the Building Bridges program. The program kicked off with over 40 cadets from the two schools, starting with a one-day program held in fall at our Leakin Park, Baltimore campus.
Over the five days, the cadets grew in their own confidence as leaders, however another highlight was the deepened connections among their group. "I think I'm walking away with lifelong friends. They really were such a unique group of people that I met. And we really kind of vibed on a different wavelength than I normally do with other people…I'll always remember these experiences with them" shares Aron, ROTC cadet, BSU.
Ranging both grade and school, many came together for the first time for the program. When asked if the connection was just getting lucky with a good group, the resounding answer was "no, we created that." The cadets felt more inclined to push themselves knowing they had a crew behind them supporting them fully. BSU cadet Destiny shares, "I feel like the benefit for me was getting to know more people that you never knew before in your life, getting more connections, because even though we went to the same schools, I really didn't know them that well because it's different grades, different levels, but coming together to know each other and getting help from each other was make you stay more connected to them."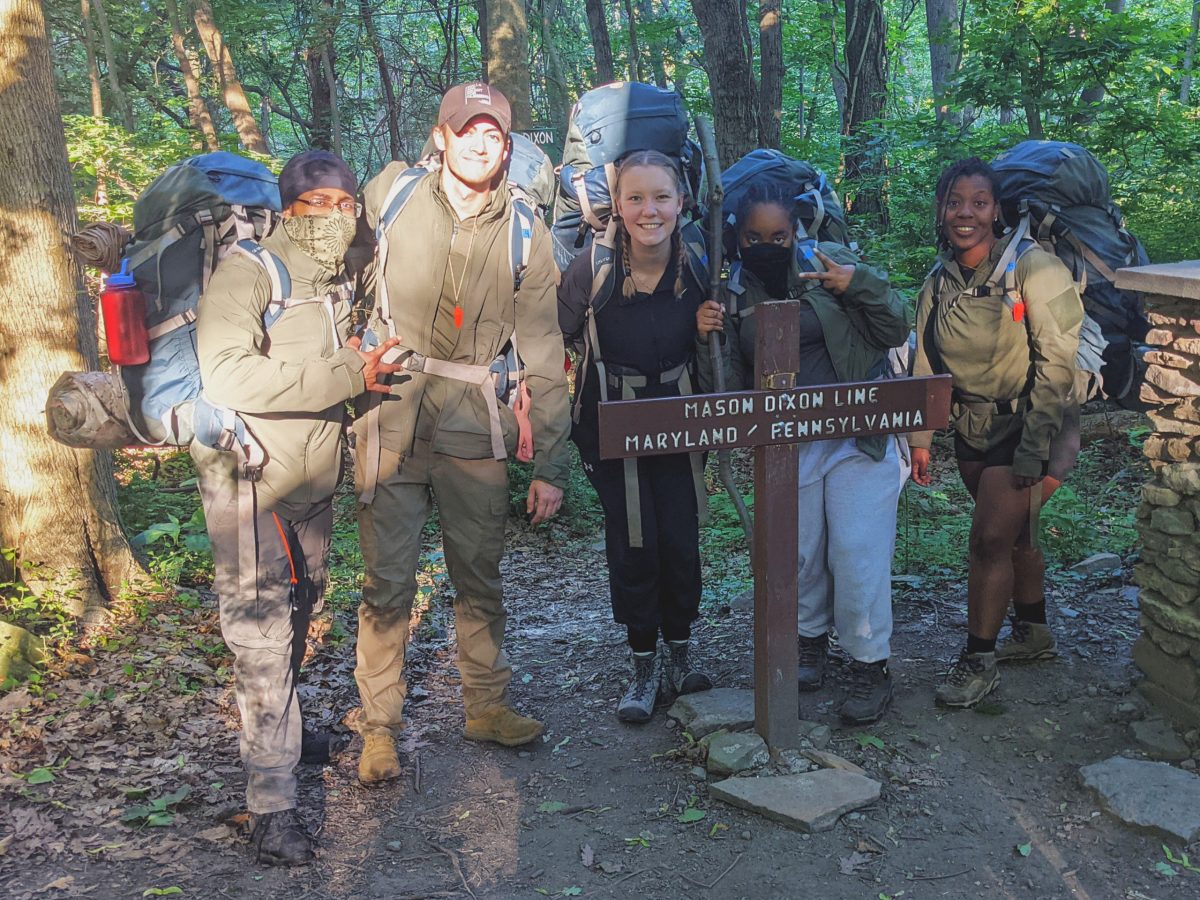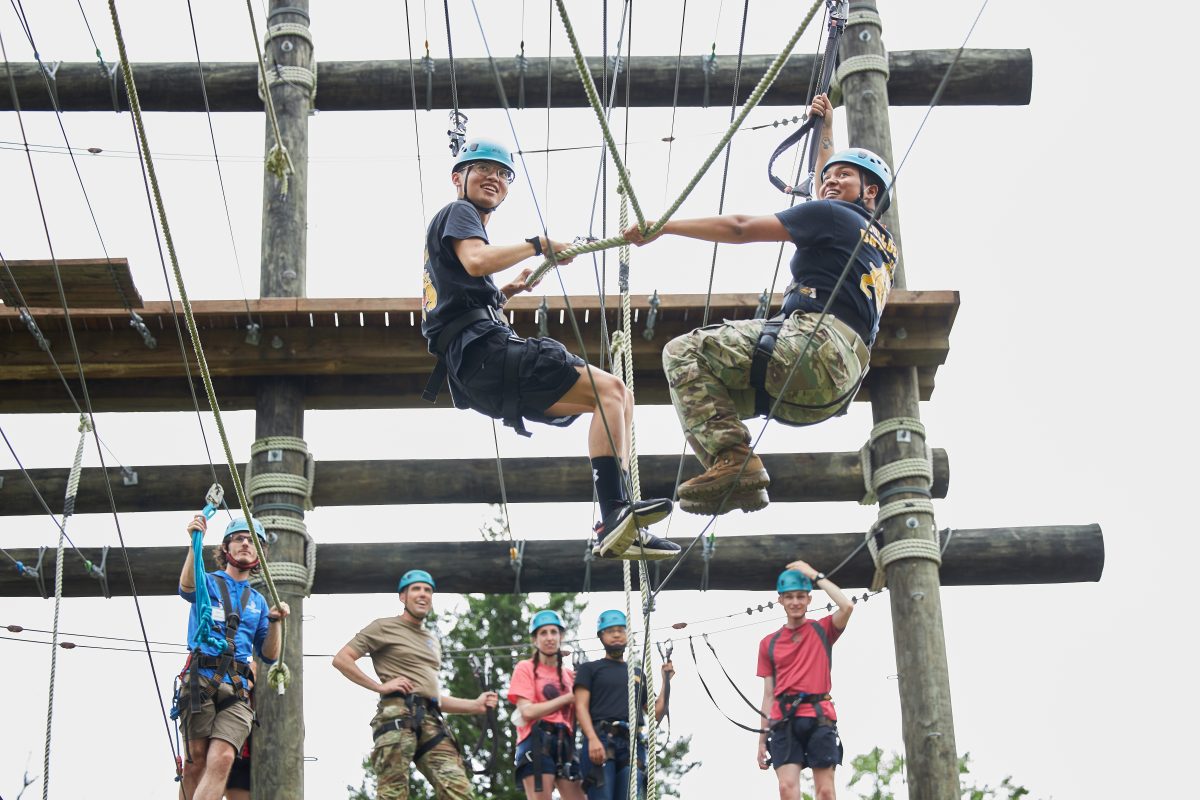 The partnership and Building Bridges program began with Chesapeake Bay Outward Bound School and the 2LT Richard W. Collins Foundation coming together to provide a space where ROTC students from diverse backgrounds can celebrate their differences and create a deeper understanding of each other through challenges and common experiences. The three-year program brings ROTC cadets from Bowie State University, a Historically Black College and University (HBCU) and University of Maryland. Over the three years, the goal is to have impacted nearly 200 emerging ROTC leaders from both universities.
Bowie State and College Park are just a few short miles apart. Yet the tragic murder of LT Richard Collins III on the College Park campus sadly highlighted that the schools were worlds apart. It was the passion and drive of LT Collins that ensures his Army service and legacy would make a difference wherever he stood as a Soldier. This was evident during his time at Bowie State University and while in uniform among his fellow cadets. He was determined to lead from the front. In spirit of LT Collins, Under Armour took a bold step to join in the partnership. With an investment of $200,000 over the three years, Under Armour is directly supporting emerging ROTC leaders within Maryland to be compassionate and resilient.
"The significance of this partnership cannot be overstated. Our commitment to amplifying the vision our son had as an officer and a leader is the embodiment of what we want to cultivate through this initiative. Having the Building Bridges program and Under Armour together, working towards the goals our son Richard set for himself, gives true definition to his legacy serving as a resounding salvo for each individual who benefits from this connection. Together, our combined resolve for success is steadfast."

-Rick Collins, father of LT Richard Collins
After a welcome circle and activities to break the ice, the cadets broke into their 2 smaller crews began packing for their expeditions. Their Course Director, Liesel, set the tone by encouraging the crew to lean into the experience. "You are the inaugural crew and together create the story of the Building Bridges program. What you put in is what you'll get out tenfold."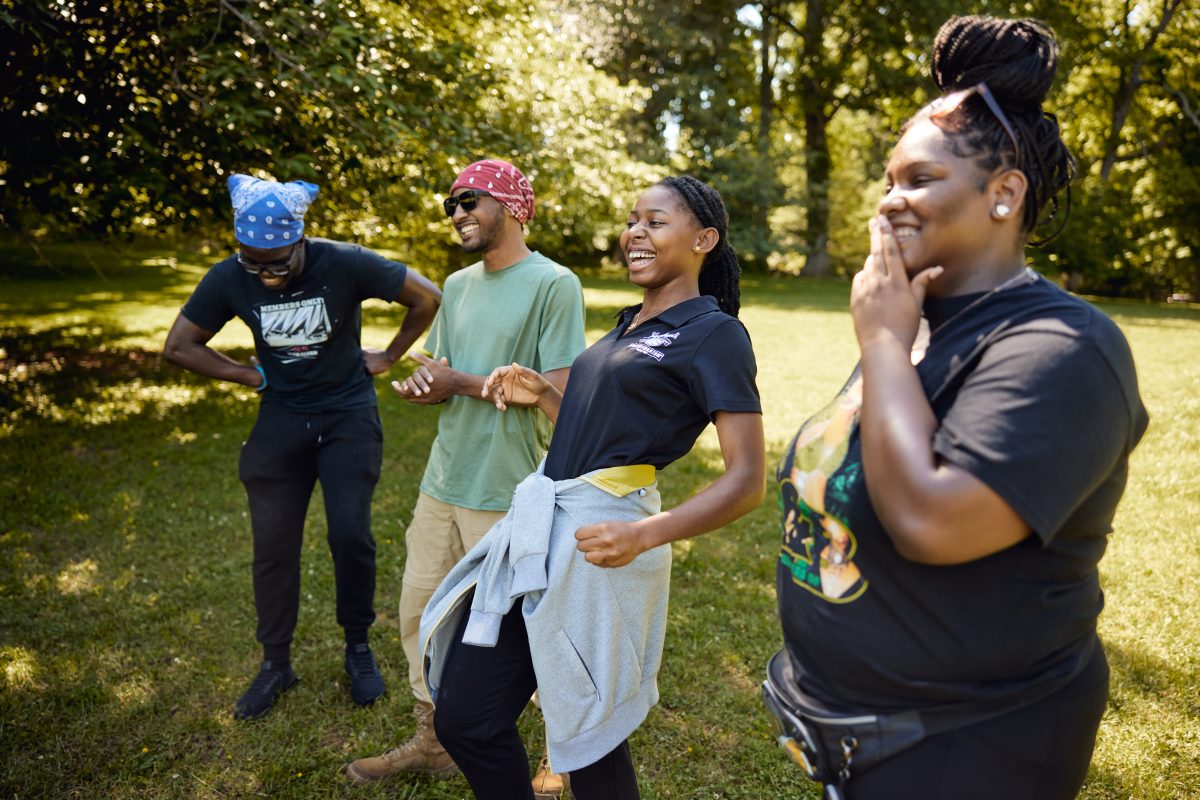 While some students have rucked before through ROTC trainings, backpacking multiple days on the trail was new for most. The 11 cadets were ready for the challenge and looking forward to the new experience. The crews began packing up everything they would need to live outside for the week. Tents, kitchen gear, food and water were most of the weight going into the packs. Beyond funding the 3 year program, Under Armour provided all of the cadets with new gear for the expedition. With clothes bags stuffed into their expedition backpacks, crews loaded up to head out.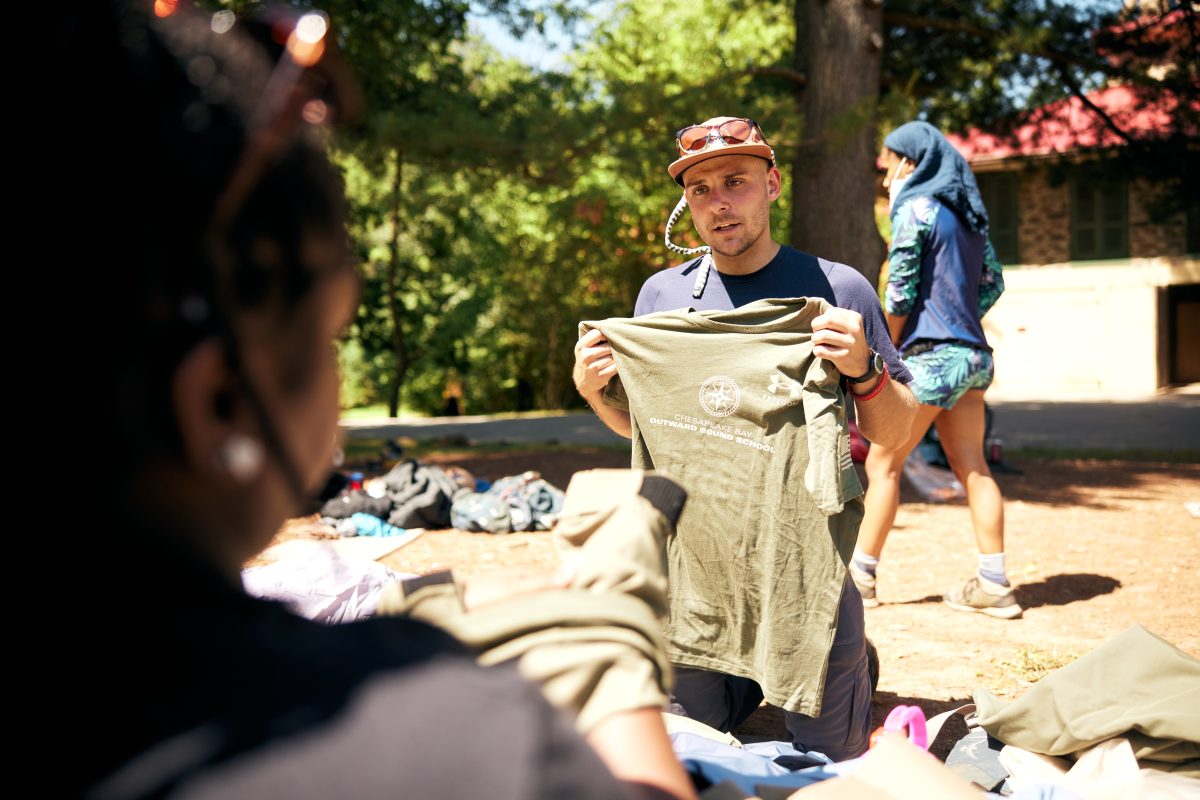 On the Trail
The cadets traveled out to the Appalachian Trail to begin their five-day journey. In expedition style, they navigated across the Appalachian Trail and other near by trail systems with everything they would need to establish a new campsite and home each night. Travelling as two crews, the groups reconvened halfway through week as they hiked into a rock site for a full day of rock climbing.
While sometimes seen as a solo sport, climbing requires both individual courage and group support to make it up the rockface. "It was hard, but you have people with positive energy around you who support you and lift you up and tell you to keep going. And that pushed me to actually climb, and then come back down" said Destiny, ROTC cadet, BSU.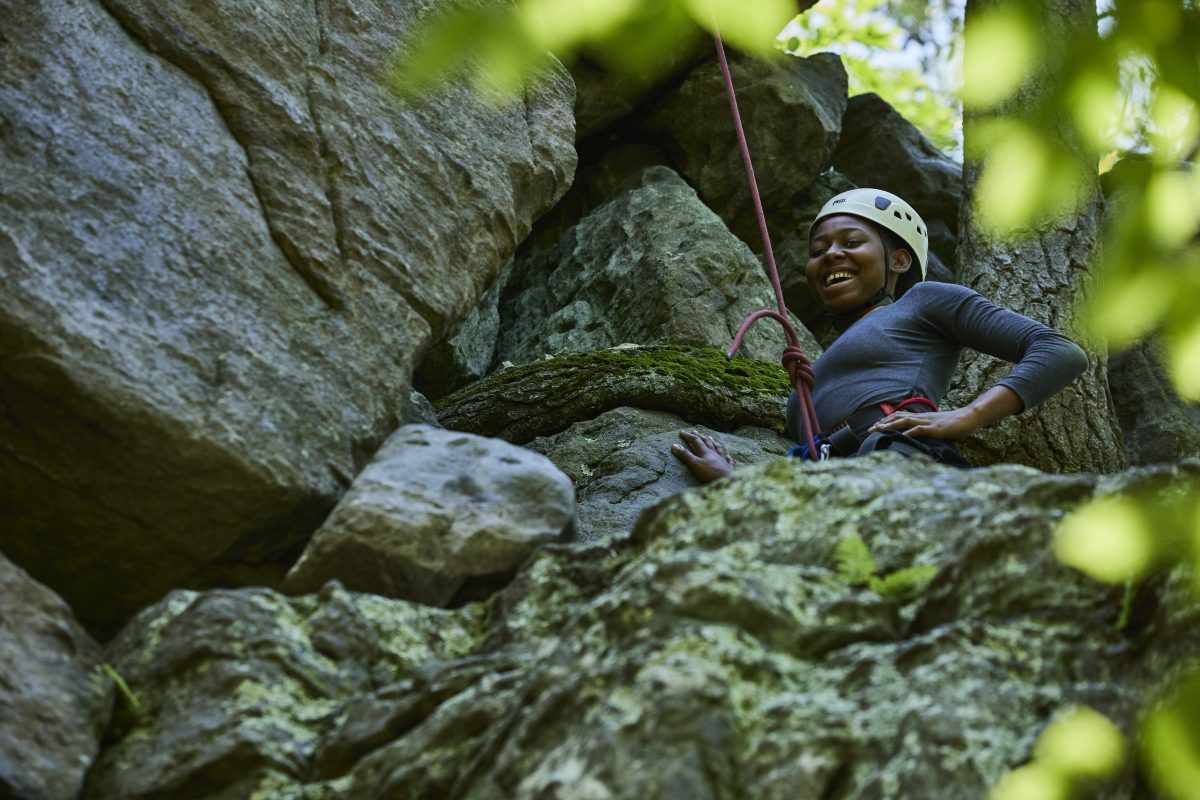 "It was hard, but you have people with positive energy around you who support you and lift you up... "
The crews were quick to share in their challenges and highlights of the week so far. For some it was the pasta dinner whipped up by that day's chefs, Destiny and Harmony, after a long hike. For others it was the ability to come together when the trail was difficult. "We always just talked about it. Like if there was anything that we needed to say we just said it. If we needed to call a red light on trail to just stop and talk about it, we just did it and just appreciated everybody for getting through the trail because it's not easy at all" shared Isaiah, ROTC cadet, BSU.
Cadets took on different daily roles including leaders, navigators, chefs, water purifiers. The crews stepped into their roles with diligence to support the greater group goals and efficiency on the trail. It's easy to mentally call it quits during rain out there, however both groups opted to build fires on their rainy day to raise moral and dry out. It's through these shared challenges that crews really become close.
Everyone is in it together. Aron, ROTC cadet, BSU added, "I would describe our crew as tight knit this point, you know, we said to each other, we want to continue this friendship that we have. Even after the program. Everyone really brought something different to our team."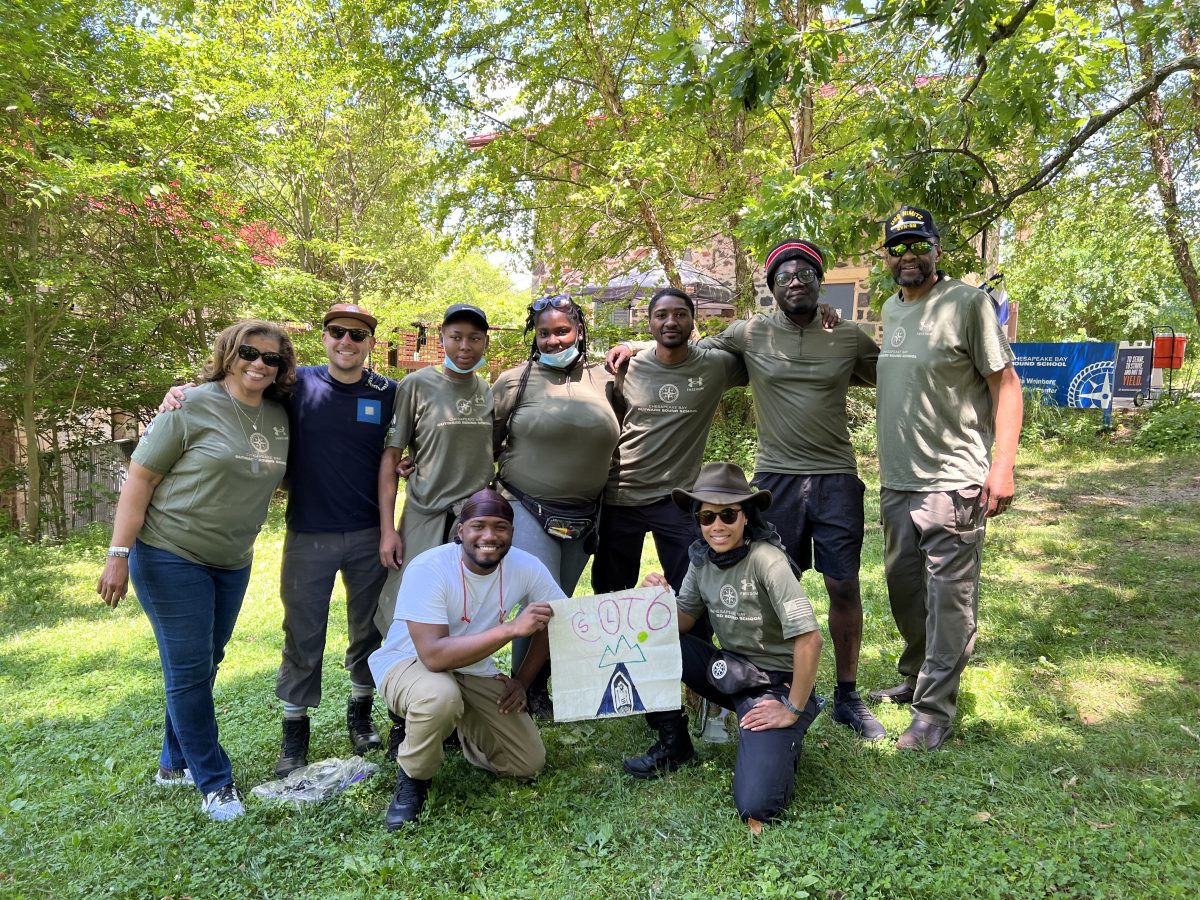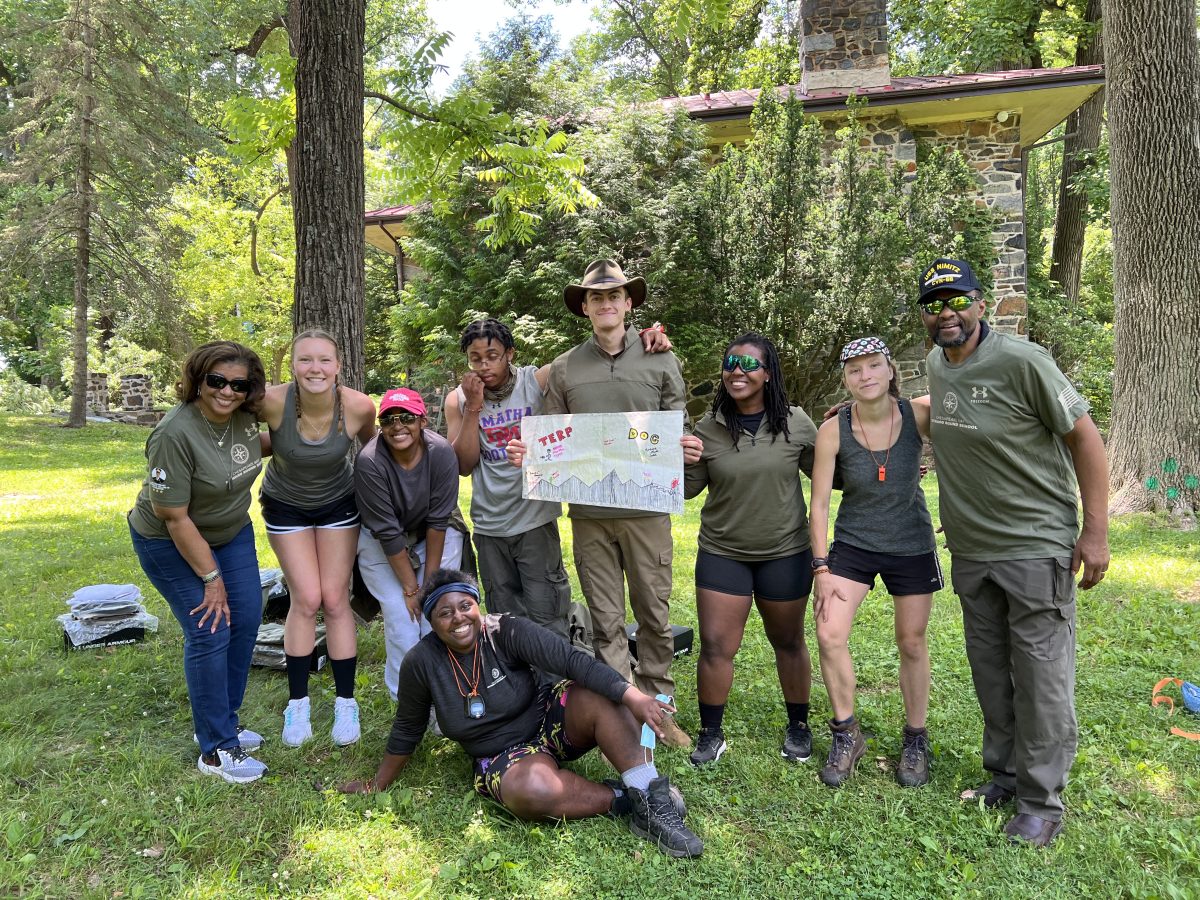 Graduation Day
The final day of an Outward Bound expedition is met with celebration and admiration of crews and their accomplishments together. After retuning to campus and putting away their gear, crews hold a graduation as well as a big group ceremony to welcome them back. As the graduation day of the first Building Bridges expedition, and a wrap up to the program's first year, the final celebration held an even more special energy than usual.
Rick and Dawn Collins, parents of LT Richard Collins and founders of the Foundation along with their daughter Robyn joined at the Leakin Park campus along with 2LT Richard W. Collins III Foundation, Under Armour, and Outward Bound representatives to celebrate the students successes. With everybody circled up, both crews shared about their experience. Themes around personal confidence and feelings of belonging emerged as crews shared their newly found "trail names" and team name and flag.
A way to represent their unique experiences, the cadets made their flags toward the end of their time on trail together. Dawn Collins, LT Collins mother, congratulated the cadets on their experience. In a heartfelt address, she shared about Richard's dedication and drive both in uniform and in school. "Mom, the world is going to know my name." Dawn shared Richard's words to the crews. Circled up, the cadets all stood in their Building Bridges shirts with Lt. Collins portrait on their sleeve with the call to be compassionate and resilient leaders in the world. She commended them for their accomplishments in the program and encouraged all of them to push ahead forward as emerging leaders within the ROTC community and United Stated Armed Forces.
About the LT Richard Collins Foundation
The LT Richard W. Collins III Foundation was founded by the parents of Richard Collins who was stabbed to death on the campus of UMD, College Park, on May 20, 2017, because of the color of his skin. Collins was an ROTC cadet at BSU and was set to graduate within a few days to begin his service as a commissioned officer in the U.S. Army as a 2nd Lieutenant before he was murdered.  He was posthumously promoted by the Secretary of the Army to the rank of 1st Lieutenant in May of 2020.
The Foundation's mission is to invest in the education and empowerment of promising young Americans who've proven themselves to be outstanding citizens and are committed to working toward a hate-free, more just society for all. In 2018, Dawn and Rick Collins in partnership with Prince George's County State's Attorney, Aisha Braveboy, successfully lobbied the Maryland General Assembly to toughen the state's hate crime law. Through the leadership of Maryland Senate President, Thomas V. "Mike" Miller, a bill was passed to appropriate funds for a $1,000,000 annual scholarship program for ROTC cadets attending HBCUs in the state of Maryland.
About UA Freedom
Under Armour, Inc., headquartered in Baltimore, Maryland, is a leading innovator, marketer and distributor of branded performance athletic apparel, footwear and accessories. Designed to make all athletes better, Under Armour's – UA Freedom Initiative – started in 2010 with a singular mission to support and inspire the brave men and women dedicated to protecting us, every day.
Check out more photos from the expedition here.